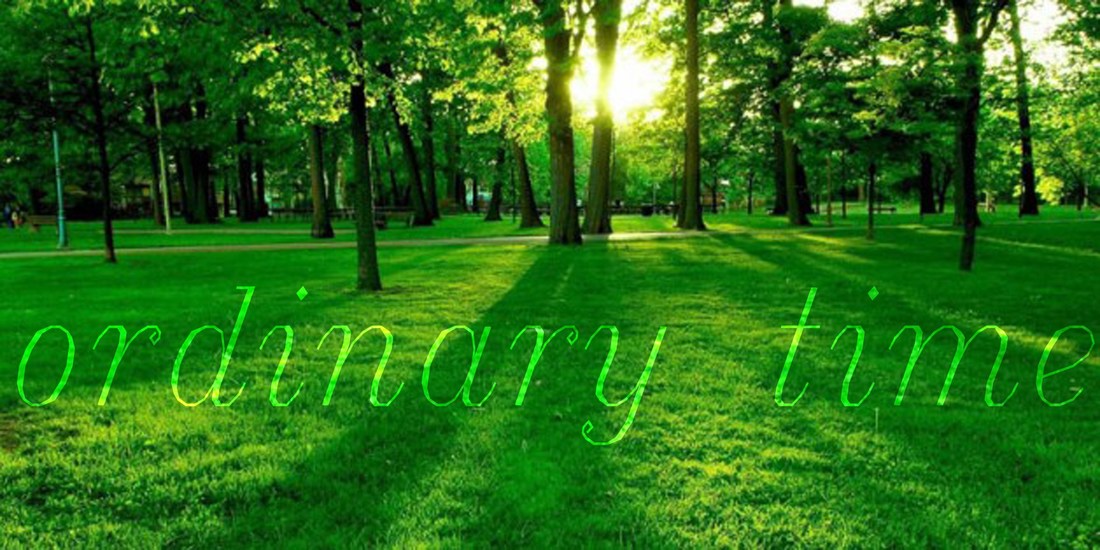 Ordinary Time is called "ordinary" because the weeks are numbered. The Latin word ordinalis, which refers to numbers in a series, stems from the Latin word ordo, from which we get the English word order. Thus, Ordinary Time is in fact the ordered life of the Church—the period in which we live our lives neither in feasting (as in the Christmas and Easter seasons) or in more severe penance (as in Advent and Lent), but in watchfulness and expectation of the Second Coming of Christ. There are two times we are in Ordinary Time. There are 28 weeks of Ordinary Time after Easter and 5 weeks of Ordinary Time after Christmas. However, this varies depending upon when Easter falls in a particular year. The actual number of weeks of Ordinary Time in any given year can total 33 or 34.
---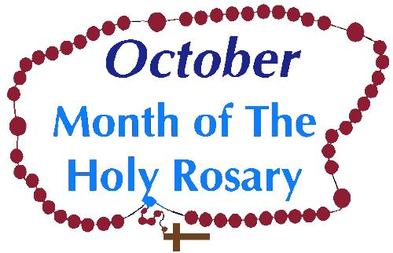 October has been traditionally known as the month of the Rosary. The feast of "Our Lady of the Rosary" is attributed to a vision of the Blessed Mother to Saint Dominic. The Rosary ("rose garden") is called the "Psalter of Mary" because its 150 "Aves" (all 15 decades) correspond to the number of psalms. The Rosary has been called the "Jesus Prayer" of Western Catholicism. While saying the prayers of each decade, the person meditates on the mysteries of our Lord and Lady's life. In addition to the Joyful, Sorrowful, and Glorious mysteries, Pope John Paul II recommended that the Luminous Mysteries be recited on Thursdays. These "Mysteries of Light" are drawn from the life of Christ, and the public revelation of his divine nature and mission.
---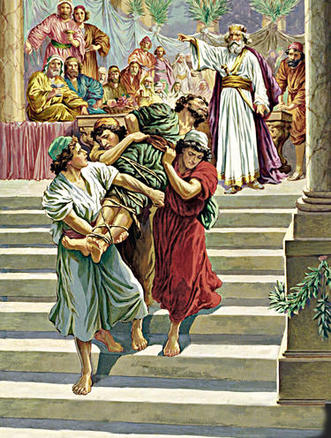 TWENTY-EIGHTH SUNDAY IN ORDINARY TIME
SUNDAY, OCTOBER 15, MATTHEW 22:1-14 or 22:1-10
(Isaiah 25:6-10a; Psalm 23; Philippians 4:12-14,19-20)
KEY VERSE: "Many are invited but few are chosen" (v 14).
TO KNOW: The marriage feast or banquet was a popular way of imagining the coming of God's reign. The parable of the royal marriage feast concerns the punishment of Jesus' opponents and has many features in common with the parable of the tenants (21:33–46). This parable is an allegory of current events in the time of Jesus. The host was God the Father who invited the people of Israel to the wedding of his son, Jesus. Those who rejected his invitation were the religious establishment. The poor and downtrodden were the common people who never believed they would get an invitation. The servants were Jesus' disciples who were mistreated and killed like the prophets before them. Angered, the king dispatched his army to burn their city (Matthew wrote after the destruction of Jerusalem by Titus in 70 CE). Because the privileged guests proved themselves unworthy, the invitation was sent out to the highways and byways, to the "bad and good alike" (v 10) who would be separated at the final judgment (Mt 13:47-50). Mere acceptance of the invitation, however, did not guarantee participation in the banquet. Guests at a wedding banquet would be expected to appear in clean clothing. When the king saw a man who was not dressed appropriately, he had him ejected from the banquet hall. Being a Pharisee or a chief priest held no more advantage than being a despised tax collector or prostitute.
TO LOVE: Have I failed to heed God's call in my life?
TO SERVE: Lord Jesus, give me the grace to accept the invitation to your eternal banquet.​
---
MONDAY, OCTOBER 16, LUKE 11:29-32
Weekday
(Romans 1:1-7; Psalm 98)
KEY VERSE: "This generation is an evil generation; it seeks a sign, but no sign will be given it, except the sign of Jonah" (v 29).
TO KNOW: When the people demanded a sign from Jesus as proof that his miracles were genuine, he accused them of lacking faith. He declared that the only sign he would give them would be the sign of Jonah's "death and resurrection" from the belly of a fish (Jonah 2). When Jonah was sent to preach to Nineveh in Assyria (Israel's enemy), the prophet was astonished when those pagan people repented and turned toward God (Jon 3:1-10). Jesus was a prophet greater than Jonah, yet the Gentiles were more receptive to his message than were his own people. Jesus noted that the Queen of Sheba had come from afar to learn the wisdom of King Solomon (1 Kgs 10:1-10). In contrast, Jesus, the wisdom of God, was spurned and rejected even though he came from God to offer them the gift of eternal life.
TO LOVE: Am I, like Jonah, reluctant to speak God's words to unbelievers?
TO SERVE: Lord Jesus, help me to repent of my sins and heed your words.


Memorial of Saint Hedwig, religious
Hedwig was the daughter of the Duke of Croatia, and the aunt of Saint Elizabeth of Hungary. She was married to Prince Henry I of Silesia and Poland in 1186 at age 12. The mother of seven, she cared for the sick personally and founded hospitals. Upon her husband's death, she gave away her fortune and entered the monastery at Trebnitz. She gave aid to the needy, to the weak, to lepers, to the imprisoned, to travelers and needy women with infants. No one who came to her for help went away empty. God also conferred on her such grace that when she lacked human means to do good, and her own powers failed, she had the power of Christ to relieve the bodily and spiritual troubles of all who sought her help. ​
---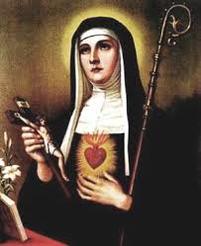 Memorial of Saint Margaret Mary Alacoque, virgin
Healed from a crippling disorder by a vision of the Blessed Virgin, Margaret Mary was prompted to give her life to God. After receiving a vision of the scourged Christ, she was moved to join the Order of the Visitation in 1671. Margaret Mary received a revelation from the Lord in 1675, which included Twelve Promises to her and to those who practiced true devotion to His Sacred Heart. The Twelve Promises of Jesus to Saint Margaret Mary for those devoted to His Sacred Heart has become widespread and popular.
1. I will give them all the graces necessary for their state of life.
2. I will establish peace in their families.
3. I will console them in all their troubles.
4. They shall find in My Heart an assured refuge during life and especially at the hour of their death.
5. I will pour abundant blessings on all their undertakings.
6. Sinners shall find in My Heart the source of an infinite ocean of mercy.
7. Tepid souls shall become fervent.
8. Fervent souls shall speedily rise to great perfection.
9. I will bless the homes where an image of My Heart shall be exposed and honored.
10. I will give to priests the power of touching the most hardened hearts.
11. Those who propagate this devotion shall have their names written in My Heart, never to be effaced.
12. The all-powerful love of My Heart will grant to all those who shall receive Communion on the First Friday of nine consecutive months the grace of final repentance; they shall not die under my displeasure, nor without receiving their Sacraments. My heart shall be their assured refuge at that last hour.​
---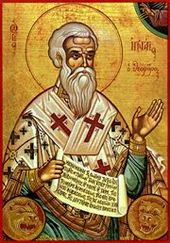 TUESDAY, OCTOBER 17, LUKE 11:37-41
(Romans 1:16-25; Psalm 19)
KEY VERSE: "Oh you Pharisees! Although you cleanse the outside of the cup and the dish, inside you are filled with plunder and evil" (v 39).
TO KNOW: When Jesus was invited to dine at the home of a Pharisee, he was criticized by his host for failing to wash his hands before eating. This was not a matter of cleanliness but of the Pharisaic practice which prescribed that hands must be washed before a meal in a certain way to avoid ritual impurity. Jesus' reply was a full-scale condemnation of their legalistic religious attitude. The Pharisees were scrupulous about the smallest details of ritual cleanliness, whereas Jesus was more concerned with moral purity than with outward observance of rituals. He made the comparison of tableware that had been washed clean on the outside but remained filthy inside. These religious leaders were contaminating the people with their emphasis on externals while ignoring the essence of the Law of Moses, which was charity and justice.
TO LOVE: Do I serve the Lord out of devotion or obligation?
​TO SERVE: Lord Jesus, cleanse me from all my unknown offenses.​

Memorial of Saint Ignatius of Antioch, bishop and martyr
Ignatius was a convert from paganism to Christianity. He succeeded Peter as bishop of Antioch, Syria. During persecution, the Emperor Trajan ordered him to be taken to Rome. En route,Ignatius wrote six letters to the churches in the region and one to a fellow bishop, Polycarp, bishop of Smyna (also martyred). This correspondence is an example of early Christian theology. Important topics include ecclesiology, the sacraments, and the role of bishops. In speaking of the authority of the church, he was the first to use the phrase "catholic church" (meaning universal), which is still in use to this day. Ignatius died a martyr c.107 at Rome, killed by wild animals. His relics are at Saint Peter's, Rome. St. Ignatius wrote: "I am writing to all the churches to let it be known that I will gladly die for God if only you do not stand in my way. I plead with you: show me no untimely kindness. Let me be food for the wild beasts, for they are my way to God. I am God's wheat and bread."

---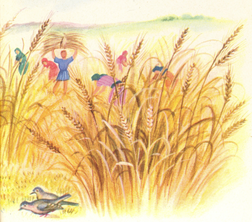 FEAST OF SAINT LUKE, EVANGELIST
WEDNESDAY, OCTOBER 18, LUKE 10:1-9
(2 Timothy 4:10-17b; Psalm 145)
KEY VERSE: "The harvest is abundant but the laborers are few" (v 2).
TO KNOW: Moses appointed seventy elders to assist him in the governance of the people (Ex 18:19, 24:1-9). In the same manner, after Jesus commissioned the Twelve Apostles (Lk 9:1-6), he sent forth another seventy-two disciples (six times twelve), which corresponds to all the nations listed in Genesis 10. Jesus sent them out two-by-two to proclaim the kingdom of God. We don't go it alone! These disciples were his representatives; therefore, they deserved the support of those who benefited from their ministry. Jesus warned the disciples that they would be like helpless sheep exposed to prey, and must depend upon God's providence and protection. As God's messengers, they must alert the people that God's reign was at hand. Severe judgment was in store for those who rejected the call to repentance. Jesus prayed that more laborers would answer God's call to prepare the soil for the rich harvest that was to come.
TO LOVE: Let us "who hold and teach the Catholic faith that comes to us from the apostles" continue in our own time to hand on the faith that we have received, just as the apostles did in their time [Eucharistic Prayer I].
TO SERVE: St. Luke, pray for me that I might have your zeal to proclaim the Gospel.​
---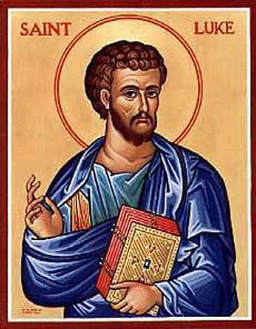 FEAST OF SAINT LUKE, EVANGELIST
Luke is commonly thought to be the only non-Jewish writer in the New Testament. Luke was not an Apostle, nor an eye witness to the life, death and resurrection of Christ He obtained some of the material for his gospel from Mark's gospel and from others who compiled narratives about Jesus (Lk 1:1-4). According to the letter to the Colossians, Luke was a physician (Col 4:14), and tradition says that he was also an artist. Luke may have accompanied Paul on his second and third missionary journey (Acts 16:10ff; 20:5ff; 27-28), and might have been with Paul during his imprisonment (Phlm 24). After Paul's death, Luke wrote a second book, "The Acts of the Apostles." Luke's writings show the development of the early Church in the context of the Roman Empire, and also focus on Jerusalem and the Temple. Material found only in Luke's gospel includes much of the account of Jesus' birth and boyhood. We find an emphasis on the love of Jesus in his compassion for sinners, suffering persons, for outcasts, and for the poor. The role of women in is more emphasized in Luke than in other gospel writings. Luke died a martyr.

---
THURSDAY, OCTOBER 19, LUKE 11:47-54
(Romans 3:21-30; Psalm 130)
KEY VERSE: "Woe to you! You build the memorials of the prophets whom your ancestors killed" (v 47).
TO KNOW: Jesus continued his tirade against the scribes, the "scholars of the law" (v 45). By their superficial religiosity, they were following in the footsteps of their ancestors who killed the prophets. While they piously built memorials to the prophets, they refused to do what they required: "to do right...love goodness, and to walk humbly with God" (Micah 6:8). The blood of those who died for the truth stretched from "A-Z": Abel to Zechariah, the first and last murders in the Hebrew canon of scripture (Gn 4:8; 2 Chr 24:20-22). Jesus charged the Scribes of depriving people of the key to knowledge of God's kingdom by distorting God's word and not practicing it themselves.
TO LOVE: Do I neglect the spirit in trying to follow the letter of God's Law?
TO SERVE: Lord Jesus, I pray for all who faithfully witness to the Gospel even to the point of death.​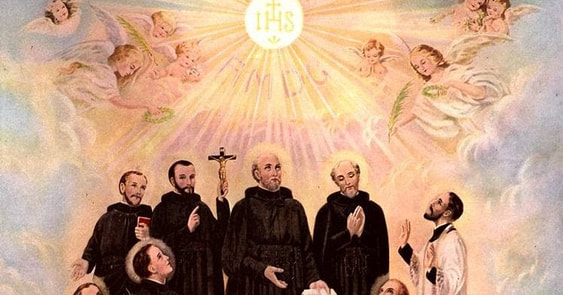 Memorial of Saints John de Brebeuf and Isaac Jogues, priests and martyrs, and their companions, martyrs
John de Brebeuf was a French Jesuit. He was sent as a missionary to the frontier of Canada at age 32, and spent the rest of his life there. Brebeuf had great difficulty learning the Huron Indian language. However, he eventually wrote a catechism in Huron, and a French-Huron dictionary for use by other missionaries. It was John de Brebeuf who named the present day version of the Indian game lacrosse because the stick used reminded him of a bishop's crosier (la crosse). John was martyred in 1649, tortured to death by the Iroquois. His martyrdom created a wave of vocations and missionary fervor in France, and gave new heart to the missionaries in New France in Canada.

Isaac Jogues was a missionary to New France in Canada, working among the Huron Indians. This was a rough assignment - not only because the living conditions were difficult, but because the locals blamed the "Blackrobes" for any disease, ill luck, or other problems that occurred. Jogues was captured in 1642 by the Mohawks, and tortured for 13 months. He taught the faith to any who would listen, and finally escaped. Jogues recuperated in France, but returned to the New World to continue his work with the natives. Jogues was martyred with fellow Jesuit priest John de Brebeuf and several lay missionaries while on a peace mission to the Iroquois. He was one of the North American Martyrs.

---
FRIDAY, OCTOBER 20, LUKE 12:1-7
Weekday
​(Romans 4:1-8; Psalm 32)
KEY VERSE: "Do not be afraid of those who kill the body and can do no more" (v 4).
TO KNOW: In the face of growing opposition to Jesus' proclamation of the gospel, he turned to his disciples whom he called "friends" (the only time the word is used in the synoptics -- Matthew, Mark and Luke―see John 15:14). Jesus warned his followers to be on guard against Pharisaical hypocrisy, which subtly eroded the truth. His disciples should not be afraid of physical suffering. The only one they ought to fear was Almighty God, the author and judge of their eternal destiny. Yet God was not a harsh magistrate; God was concerned about the welfare of every creature, knew the worth of each bird sold for sacrificial offering, and the number of hairs on each person's head. Therefore, Jesus' followers should be assured of divine protection during times of persecution.
TO LOVE: Does fear keep me from openly proclaiming my faith?
TO SERVE: Lord Jesus, help me to have confidence in God's care for me.
​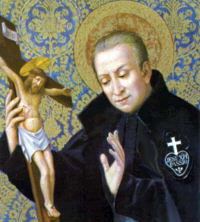 Optional Memorial of Saint Saint Paul of the Cross, priest
Saint Paul of the Cross (Paul Francis Danei, 1694-1775) is the founder of the order commonly known as the Passionists because of their dedication to the preaching of the Paschal Mystery, the dying and rising of Jesus Christ. Inspired by a vision, Paul established his religious order, which takes not only the three traditional vows of poverty, chastity and obedience, but a fourth vow to promote devotion to the passion of Jesus. He wrote, "In naked faith and without images, clothe yourself always in the sufferings of Jesus. It is love which unites and which makes our own the sufferings of the one we love. It is through love that you will make the sufferings of Jesus your own." (In the Heart of God: The Spiritual Teaching of Saint Paul of the Cross)
​
---
SATURDAY, OCTOBER 21, LUKE 12:8-12
Weekday
(Romans 4:13, 16-18; Psalm 105)
KEY VERSE: "For the holy Spirit will teach you at that moment what you should say" (v 12).
TO KNOW: Jesus encouraged his disciples to be fearless in their proclamation of the gospel. The disciples need not worry about how they should defend themselves when brought before the authorities. The Holy Spirit would enlighten and strengthen them as they bore witness to their faith. Jesus did not promise to save them from suffering, or even death, but he did guarantee that he would testify to their fidelity before God. Jesus warned his followers of blaspheming against the Holy Spirit. These are sins that despair of salvation, presume on God's mercy, envy another's spiritual good, resist known truths of faith, and are obstinate in sin and impenitent at death. Although each sin put an obstacle in the way of God's mercy, God's grace could overcome even these sins. But if the unrepentant refused God's power to save them, they also denied the possibility of mercy and forgiveness by Jesus.
TO LOVE: Do I thank God for the grace of faith?
TO SERVE: Holy Spirit, strengthen me when I am too weak to defend myself.
​

OPTIONAL MEMORIAL OF THE BLESSED VIRGIN MARY
Chapter V of the Directory on Popular Piety and the Liturgy, issued by the Holy See in December 2001, describes the Church's traditional dedication of Saturday to the Virgin Mary. "Saturdays stand out among those days dedicated to the Virgin Mary. These are designated as memorials of the Blessed Virgin Mary" (218). The chapter also describes the importance of Mary, the Mother of Jesus, in Catholic devotional life, in the Liturgy, and reflections on popular devotions to Mary, her feast days, and the Rosary.

​

---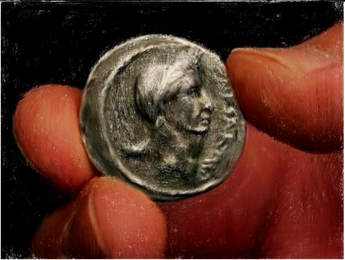 TWENTY-NINTH SUNDAY IN ORDINARY TIME
SUNDAY, OCTOBER 22, MATTHEW 22:15-21
(Isaiah 45:1, 4-6; Psalm 96; 1 Thessalonians 1:1-5b)
KEY VERSE: "Repay to Caesar what belongs to Caesar and to God what belongs to God" (v 21).
TO KNOW: Jesus' opponents often questioned him on matters concerning religion, and his answers only served to increase his reputation. His enemies then shifted their questions to affairs of the state. Two groups attempted to entrap Jesus about the legitimacy of paying taxes to Rome. The Herodians, supporters of Rome's puppet-king Herod, favored the tax, while the Pharisees objected to being subjected to a foreign power. Jesus faced a dilemma. His answers might involve him either with the Roman government, or with the great Sanhedrin. No matter how he responded, one or the other group would be dissatisfied. Jesus asked to see one of the Roman coins bearing the inscription: "Tiberius Caesar, Son of the Divine Augustus" (14-37 AD). Since his opponents were using the emperor's coins and participating in his economic system, they had already taken upon themselves the duty of paying taxes to the emperor. Jesus, the true Son of the August God, told his opponents to pay the tax. Money belonged to the temporal order, and its power was transitory. Jesus challenged his opponents to look at a deeper level. Had they paid their debt to God whose power was eternal?
TO LOVE: Does the separation of Church and State give me an excuse to ignore my moral obligations?
TO SERVE: Lord Jesus, I want to give you honor and glory in all I do.​
---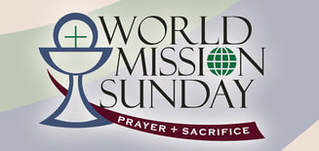 WORLD MISSION SUNDAY
Pope Pius XI instituted World Mission Sunday in 1926 at the request of the Society for the Propagation of the Faith. It calls us to a renewed commitment to our responsibility to spread the Gospel message. Since the Church is by her very nature missionary, evangelization constitutes a duty and a right for every one of her members (cf. Vatican II Documents: Lumen gentium, n. 17; Ad gentes, nn. 28, 35-38). The Lord calls us to go beyond ourselves and to share with others the blessings we have received, beginning with the gift of faith, which cannot be considered as a private privilege but must be seen as a gift to be shared with those who have not yet received it. Such activity will benefit faith itself since faith is strengthened when it is shared. (Pope John Paul II, 1992). Pray the Mission Rosary created by the late Bishop Fulton Sheen in the 1950's.

---
MONDAY, OCTOBER 23, LUKE 12:13-21
Weekday
(Romans 4:20-25; Psalm: Luke 1)
KEY VERSE: "You fool, this night your life will be demanded of you; and the things you have prepared, to whom will they belong?" (v 20).
TO KNOW: When an argument arose between brothers regarding their family inheritance, Jesus refused to intervene. Instead, he told a parable about the foolishness of focusing on material wealth. In the story, a rich man's barns were full, so he made plans to build even larger ones to store his harvest. The man presumed that he would have many years to enjoy his prosperity, but he gave no thought to God's plans. (Count the number of times the man says "I" and "my"). When death came unexpectedly, the man's earthly riches counted for nothing. He was a "fool" because he was so absorbed in his worldly goods that he lost sight of God's treasures, which have eternal value (Mt 6:20).
TO LOVE: What are the "barns" I am building to hold my earthly treasures?
TO SERVE: Lord Jesus, you are more precious than any wealth I might possess. ​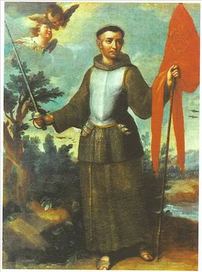 Optional Memorial of Saint John of Capistrano, priest
John was born at Capistrano, Italy in 1385, the son of a former German knight. He studied law and practiced as a lawyer in the courts of Naples. King Ladislas of Naples appointed him governor of Perugia. During a war with a neighboring town, John was betrayed and jailed. During his imprisonment he came to the decision to change vocations. He became a Franciscan on 4 October 1416. John was a noted preacher while still a deacon. Ordained a priest, he preached to tens of thousands throughout Italy, Germany, Bohemia, Austria, Hungary, Poland, and Russia. It was reported that he healed the sick by making the Sign of the Cross over them. John wrote extensively, mainly against the heresies of the day. After the fall of Constantinople to the Muslim Turks, John was commissioned by Pope Callistus II at age 70 to lead a Crusade against them. At the head of 70,000 Christian soldiers, he won the great battle of Belgrade in the summer of 1456, but he died in the field a few months later.​
---
TUESDAY, OCTOBER 24, LUKE 12:35-38
Weekday
(Romans 5:12, 15b. 17-19, 20b-21; Psalm 40)
KEY VERSE: "Blessed are those servants whom the master finds vigilant on his arrival" (v 37).
TO KNOW: The early Church expected the imminent return of Jesus Christ. In speaking of his second coming (parousia), Jesus emphasized that the time of his return would be a surprise. He made the comparison to the return of a master coming home from a wedding, expecting to find his servants vigilant on his arrival, and to the coming of a thief, when his coming would be uncertain (1Thes 5:2). He pointed to the uncertain hour of his return by telling his disciples to be prepared whenever he might come. The faithful servant who watched over the household (the Church) would be rewarded for their fidelity when the master returned. Unfaithful servants would be punished for their shameful behavior. Jesus warned these future leaders of the Church that they would be held more accountable than those who acted out of ignorance. Christian leaders today must continue to exercise care for the Church, which has been entrusted to them. They should never leave a task undone that ought to be finished before Christ's return.
TO LOVE: Do I use the time, treasure and talents the Lord has given me?
TO SERVE: Lord Jesus, help me to be your faithful and trustworthy servant.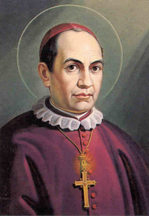 Optional Memorial of Saint Anthony Mary Claret, bishop
Anthony Mary Claret was ordained to the priesthood in 1835, and assigned as pastor in Catalonia, Spain. His apostolate consisted of rural preaching, conferences for the clergy and publications (he wrote more than 150 books). In 1849 Anthony gathered together five priests who formed the basis of the Missionary Sons of the Immaculate Heart of Mary (popularly known as the Claretians). At the suggestion of the Queen of Spain, Isabella II, Anthony was named archbishop of Santiago, Cuba (1850). For the next seven years he made pastoral visitations, preached against the slavery of the Africans, and regularized numerous marriages. As a result of his activity he was frequently threatened with death and on one occasion an attempt was actually made on his life. In 1857 he was recalled to Spain as confessor to the queen. He followed Isabella II into exile and was placed under house arrest in the Cistercian monastery at Fontfroide, France, where he died at the age of 63. His remains were ultimately returned to Spain. He was canonized in 1950 by Pope Pius XII.

---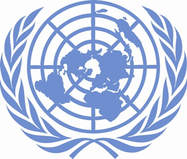 UNITED NATIONS DAY
United Nations Day was established by Presidential Proclamation to commemorate the founding of the United Nations in 1945. It is generally recognized by all states and American possessions, and by countries that are members of the United Nations. United Nations Day is celebrated for the purpose of informing all people of the world as to the aims, purposes, and achievements of the UN, such as UNICEF (International Children's Emergency Fund), UNESCO (U.N. Educational, Scientific and Cultural Organization) and WHO (World Health Organization).

---
WEDNESDAY, OCTOBER 25, LUKE 12:39-48
Weekday
(Romans 6:12-18; Psalm 124)
KEY VERSE: "Much will be required of the person entrusted with much" (v 48).
TO KNOW: Jesus told his disciples a parable about being prepared for his coming, which would occur when they least expected. In his story, a master's servants were waiting for his return from a wedding banquet. Though he was delayed, the prudent servant did not neglect his tasks. In contrast, the wicked servants took advantage of their master's absence by indulging in scandalous behavior, mistreating their fellow "menservants and maidservants" (v 45). Jesus warned that such misconduct would be severely punished. He reminded his disciples, the future leaders of the Church, who had been entrusted with a great responsibility to hand on his authentic teachings. Therefore, they would be held more accountable than those who acted out of ignorance of their "master's will" (v 47).
TO LOVE: Do I pray for the leaders of the Church to be faithful and responsible stewards?
TO SERVE: Lord Jesus, help me to be diligent in my tasks while awaiting your coming glory. ​
THURSDAY, OCTOBER 26, LUKE 12:49-53
Weekday
(Romans 6:19-23; Psalm 1)
KEY VERSE: "There is a baptism with which I must be baptized, and how great is my anguish until it is accomplished!" (v 49).
TO KNOW: John the Baptist told his followers that the Messiah would baptize with the purifying fire of the Holy Spirit (Lk 3:16). The fire that consumed Jesus was a passion to redeem humanity from their sins ̶ a fire that would be ignited on the cross on Calvary. St. Paul knew that baptism was not just a symbolic ritual. In baptism, the Christian died to the old life and was raised to a new life in Christ (Ro 6:4). The rite of the early Church demonstrated this truth. Proselytes entered the baptismal pool stripped of their old clothing and were totally immersed in water. When the new Christian came out of the water, he or she was clothed in a white garment, a symbol of having risen with Christ (Rev 19:8). Jesus demanded radical conversion and total commitment from his disciples. Their attachment to him might even require a separation from family members who did not share their Christian faith. This dissension was described by the prophet Micah who said that a person's enemies might be of one's own household (Micah 7:6).
TO LOVE: Do I share my faith with my family even though I might face rejection?
TO SERVE: Lord Jesus, help me to live my baptismal call in everything I do.
​
FRIDAY, OCTOBER 27, LUKE 12:54-59
Weekday
(Romans 7:18-25a; Psalm 119)
KEY VERSE: "Why do you not judge for yourselves what is right?" (v 57).
TO KNOW: Jesus warned the people that they were facing God's coming judgment, yet they refused to make a decision for or against him. He chastised them for being able to observe the weather signs that predicted rain or shine, yet they ignored the signs of the coming of God's reign. Jesus told his followers that God's judgment was already taking place. There might be little time left to be reconciled to God and to put one's affairs in order. He said that it would be much easier to settle "out of court" than to face the ominous judgment of Almighty God. At such time they would be required to pay the full price for their misdeeds. Then they would regret that they did not heed Jesus' words.
TO LOVE: What are the signs of the times that I must pay attention to today?
TO SERVE: Lord Jesus, help me to listen to your words while there is still time to act on them.
​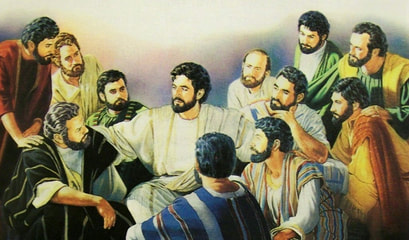 FEAST OF SAINTS SIMON AND JUDE, APOSTLES
SATURDAY, OCTOBER 28, LUKE 5:12-16
(Ephesians 2:19-22; Psalm 19)
KEY VERSE: "He called his disciples to himself, and from them he chose Twelve, whom he also called apostles" (v 14).
TO KNOW: Jesus spent the night in prayer before choosing twelve individuals to whom he would entrust the leadership of the Church. Only Luke said that Jesus bestowed the title of "apostle" on those whom he chose. The word "apostle" means one sent to speak and act in the name of Jesus Christ to proclaim the message of the gospel. Similar to the twelve founders of the Old Covenant, these Twelve Apostles would form the foundation of the New Covenant to be signs of the restored Twelve Tribes of Israel. The Twelve were eye-witnesses to the ministry of Jesus from the time of his baptism to his ascension, which guaranteed continuity and faithfulness to his teaching (Luke 1:1-4). Following Jesus' death, Peter, who always heads the list of apostles, stated the need to reinstate the number of the apostles to the full Twelve, and "the lot fell upon Matthias" (Acts 1:26). After Pentecost, the term "apostle" had a wider application than just the Twelve (1 Cor 1:1, 9:1, 15:5-9). They were, like Paul, ambassadors of Christ given authority of pastoral service over the communities. The episcopacy (Office of Bishop) traces its succession to the authority Jesus conferred on the first apostles. We are mirrors of the Twelve, flawed but graced human beings.
TO LOVE: Do I hand on the faith that I have received as the apostles did in their time?
TO SERVE: Saints Simon and Jude, pray for me that I might imitate your heroic examples.

---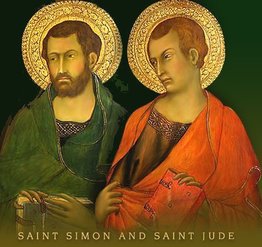 FEAST OF SAINTS SIMON AND JUDE, APOSTLES
Some ancient Christian writers say that Simon and Jude went together as missionaries to Persia, and were martyred there. If this is true, it explains, to some extent why they are usually put together. Simon is named in the lists of the apostles. He is called the Zealot because of his association with the Jewish independence movement devoted to violent insurrection described by the Jewish historian Josephus. However, there were many movements that were called Zealots, not all alike, and Josephus tells us that the movement he described did not arise until shortly before the destruction of the Temple in 70 AD. (Jewish War 4,3, 9)
Jude (not to be confused with Judas Iscariot), also called Thaddeus meaning "Courageous", is the disputed author of a short epistle in the New Testament. He was the brother of James the Lesser. He was renowned for exorcising demons from pagan idols. It has been speculated by Eusebius of Caesaria (Church History, Book I) that Jude carried the burial shroud of Jesus to King Abgar of Edessa (Turkey). Saint Jude is often depicted carrying a circular image of Christ, the shroud folded up into a case with a window that shows just the face. It is said that when Jude opened up the image to cure the king, both Jude and the image became radiant with light; hence the traditional flame on Saint Jude's forehead. According to traditional accounts, Jude was beaten to death with a club, then beheaded, in Persia, sometime before the end of the first century. Jude has in recent years become patron saint of lost causes.
Novena to Saint Jude
Holy Saint Jude, Apostle and Martyr, great in virtue and rich in miracles, near kinsman of Jesus Christ, faithful intercessor of all who invoke your special patronage in time of need. To you I have recourse from the depths of my heart and humbly beg to whom God has given such great power to come to my assistance. Help me in my present and urgent petition. In return I promise to make your name known and cause you to be invoked. Saint Jude, pray for us and all who invoke your aid. Amen.

---

THIRTIETH SUNDAY IN ORDINARY TIME
SUNDAY, OCTOBER 29, MATTHEW 22:34-40
(Exodus 22:20-26; Psalm 18; 1 Thessalonians 1:5c-10)
KEY VERSE: "The whole law and the prophets depend on these two commandments" (v 40).
TO KNOW: The Pharisees believed in all of the written Hebrew Scriptures ("the law and the prophets") as well as the oral interpretations of the law. These included 613 precepts, which were divided into categories of greater or lesser importance. The Sadducees accepted only the first five books of the law (the Pentateuch) and rejected oral tradition. Both groups were opposed to Jesus. A scribe, an expert in the law, challenged Jesus by asking which of the laws was greater than the others. Jesus summed up the entire law with two commands: to love God and to love one's neighbor as oneself. The first commandment that Jesus quoted was Deuteronomy 6:5. That verse was part of the Shema, the basic creed of Judaism with which every Jewish service still opens. It means that human beings must give God their total love. The second commandment that Jesus quoted came from Leviticus 19:18. Love for God must issue forth in love for one another. But the order of the commandments must be noted: love for one another is firmly grounded in the love of God. To be truly religious is to love God and to love the human beings made in God's own image. The whole law is based upon these two commandments. Jesus perfectly fulfilled this law of love in his words and deeds.
TO LOVE: Have I obeyed the commandment to love God and my neighbor? Do I have a healthy self-love?
TO SERVE: Lord Jesus, fill me with great love for you so that it will overflow to others.



---