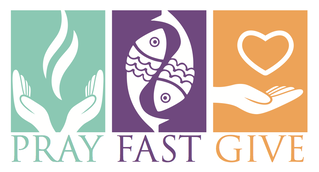 LENT The Season of Lent is a Catholic liturgical season consisting of forty days beginning on Ash Wednesday and concluding at sundown on Holy Thursday. The official liturgical color for the season of Lent is violet. Throughout history, Jews and Christians have found prayer, fasting, and alms-giving to be an important part of repentance and renewal. Rather than giving up something, many Catholics address personal habits that need to be changed, or perform some outreach to others in need. Ash Wednesday and Good Friday are obligatory days of universal fast and abstinence. Fasting allows a person to eat one full meal a day and is mandatory for all who have completed their 18th year and have not yet reached their 60th year. Two smaller meals may be taken, which are not to equal one full meal. Abstinence (from meat) is required of all who have reached their 14th year. Drinking of ordinary liquids does not break the fast.

---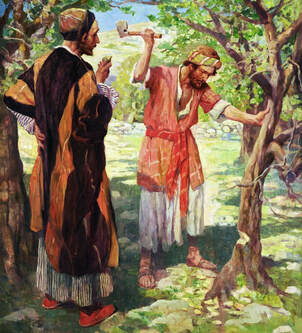 THIRD SUNDAY OF LENT
SUNDAY, MARCH 24, LUKE 13:1-9
(Exodus 3:1-8a, 13-15; Psalm 103; 1 Corinthians 10:1-6, 10-12)
KEY VERSE: "Unless you repent, you will all perish as they did" (v. 13).
TO KNOW: In Jesus' time, there were those who hoped for a triumphant Messiah who would reestablish Israel in power. They found his teaching on the cross difficult to accept. Jesus pointed out recent disasters that they believed were the consequence of sin. In one incident, Pontius Pilate's men killed some Jewish Galileans in cold-blood while they were offering sacrifice in the Jerusalem Temple at Passover. In another case, several construction workers were accidentally killed when a water tower fell on them. These individuals did not die because of their own sins. Although they were innocent of wrongdoing, they nonetheless suffered the reality of evil in the world. Without faith, these calamities would be seen as terrible tragedies, but with faith, all events in a person's life, whether good or bad, can be sanctifying and redemptive. Jesus told a parable about a fruitless fig tree planted in the vineyard (a symbol of barren Israel, Jer 8:13; Is 5:1-7). While God was merciful and patient in waiting for it to bear fruit, time was running out. The kingdom of God was at hand and God's people should repent while there was still time.
TO LOVE: Do I view the trials in my life as punishment for sin or opportunities for growth?
TO SERVE: Lord Jesus, help me to uproot sin in my life so that I might bear good fruit.​
---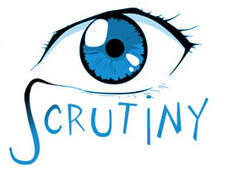 SCRUTINIES - EXAMINING OUR LIVES
On the Third Sunday of Lent, we celebrate the First Scrutiny and Exorcism for the Elect (RCIA, 150). In the Scrutiny Rites, those preparing for baptism at the Easter Vigil as well as the entire assembly are called to examine the areas in their lives where they thirst for God and need God's healing love. During the week the presentation of the creed is celebrated with those preparing for baptism (called the elect after the celebration of the Rite of Election on the First Sunday of Lent, RCIA, 157). The primary way that the Church assists the elect is through the celebration of the rites called Scrutinies. To scrutinize something means to examine it closely. These ritual celebrations are held on the Third, Fourth and Fifth Sundays of Lent. Where catechumens are present the readings are from the Gospel of John. On the Third Sunday we hear the story of the woman at the well and her thirst for God (Jn 4:4-42). On the Fourth Sunday we hear the story of the man born blind and the healing power of God in his life (Jn 9:1-41). On the Fifth Sunday we hear the story of the raising of Lazarus, which reminds us of our own dying and rising with Christ in Baptism (Jn 11:1-45). The Scrutiny rites of Lent are communal prayers celebrated to strengthen the elect to overcome the power of sin in their lives and to grow in virtues. The community does not scrutinize the elect; they scrutinize their own lives and allow God to scrutinize them and to heal them. Since all of us are called to continual conversion throughout our lives, we join with the elect in scrutinizing our own lives and praying to God for the grace to overcome the power of sin that still has a hold on us, and to be strengthened in the virtues.​
---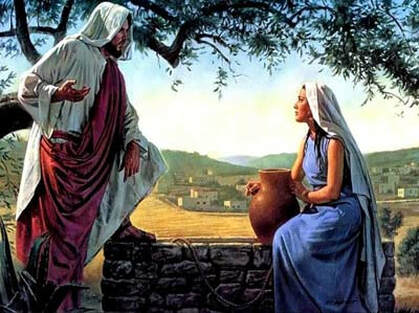 THIRD SUNDAY OF LENTFIRST SCRUTINY FOR THE ELECT, JOHN 4:5-42
(Exodus 17:3-7; Psalm 95; Romans 5:1-2, 5-8)
KEY VERSE:
"The water that I will give will become in them a spring of water gushing up to eternal life" (v.14).
TO KNOW:
Jesus offered life-giving water to all who thirsted for God. Perhaps the Samaritan woman at the well was nameless as she represents each person who Jesus personally encounters. St. Augustine said, "It was for
you
that Jesus was weary from the journey." The woman who met Jesus at the well was despised as a heretical Samaritan, descendants of the Assyrian occupation. With their mixed Jewish and pagan beliefs, Samaritans were regarded as unfit to worship in the Temple in Jerusalem, so the Samaritans built their own Temple on Mt. Gerizim. Jesus looked beyond national and religious boundaries to the coming of the Spirit who would unite all believers in worship of one God. At first, the woman was suspicious of Jesus and argumentative, but as he revealed her inner need, the woman changed her attitude. She addressed him as "sir" and then as "prophet," but as the woman gradually recognized Jesus as the Messiah, she finally saw him as her personal Savior. Leaving her empty water jar behind (a symbol of her arid life), the woman ran off to tell the people in the village that she found the Lord. Many believed on the strength of the woman's testimony. Meanwhile, Jesus' disciples had gone to the city to buy food. When they returned, he asked them to pray for others, who, like the woman, would harvest the ripe field of souls that lay before them.
TO LOVE:
Have I shared Christ's life-giving water with others this Lent?
TO SERVE:
Lord Jesus, increase my thirst for you.
​
On the Third Sunday of Lent, when the elect, catechumens and candidates are present, the story of the
woman at the well and her thirst for God is read (Jn 4:4-42). The Scrutiny rites of Lent are communal prayers celebrated to strengthen the elect to overcome the power of sin in their lives and to grow in virtues.
---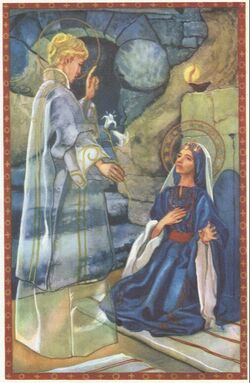 THE ANNUNCIATION OF THE LORD
MONDAY, MARCH 25, LUKE 1:26-38
(Isaiah 7:10-14, 8:10; Psalm 40; Hebrews 10:4-10)
KEY VERSE: "Do not be afraid, Mary, for you have found favor with God" (v. 30).
TO KNOW: Nine months before the Feast of the Nativity, the Church honors the Annunciation of the Lord's birth. After centuries of longing for the Messiah, the Archangel Gabriel announced the good news to a young woman in the obscure village of Nazareth. The virgin's name was Mary (Hebrew, Miryam, "the exalted one"). The angel told Mary that she had found favor with God and would bear a son, whom she was to name Jesus (Hebrew, Yeshua, 'Yahweh saves'). Mary was deeply troubled by the angel's message, but she was told not to be afraid since God's Son had been conceived by the Holy Spirit. The "Son of the Most High" (v. 32) would rule eternally over the "house of Jacob" (v. 33) fulfilling the promise made to King David (2 Sm 7:16). Mary was given a sign to prove that "nothing was impossible with God" (Lk 1:37); Elizabeth, her kinswoman, had conceived a son in her old age. Mary responded with faithful submission to the will of God (fiat, "Let it be done"). Mary is the new Eve. While Eve grasped the forbidden fruit, Mary received the Divine Fruit of her womb. Mary's virtues of fidelity and praise are necessary for all Christians.
TO LOVE: Can I say with Mary: "Be it done unto me according to your will"?
TO SERVE: Blessed Mother, help me to obey God's will as you did.

---
TUESDAY, MARCH 26, MATTHEW 18:21-35
Lenten Weekday
(Daniel 3:25, 34-43; Psalm 25)
KEY VERSE: "So will my heavenly Father do to you, unless each of you forgives his brother from his heart" (v. 25).
TO KNOW: It is important that the Church exercises justice, but it is more important that the Church manifests the mercy of God. As a leader of the Christian community, Peter asked Jesus how often he must forgive a fellow disciple. In the Old Testament, Lamech, a descendant of Cain, exacted a unlimited retaliation for injury ("seventy-sevenfold", Gn 4:23-24). The rabbis of Jesus' time taught that forgiveness should be offered another person at least three times. Peter increased the number to seven. However, Jesus told him that Christian forgiveness must be "seventy-seven times" (Matt 18:22). Jesus is not saying that we should forgive 490 times. In the Bible, the number "7" symbolizes completeness, while the number "70" signifies 'perfection.' Jesus illustrated this with a parable in which a master forgave his servant a huge debt, which he had no way of repaying. But later, when the man met a fellow servant who owed him a much smaller debt, he demanded immediate payment. When the debtor begged for mercy, the servant refused and cast him into prison. Jesus warned his followers that God's compassion toward us would correspond to our own willingness to extend mercy and forgiveness to others (Mt 6:14-15).
TO LOVE: Is there someone whom I need to forgive this Lent?
TO SERVE: Lord Jesus, grant me the grace to ask for forgiveness of those I have offended.


WEDNESDAY, MARCH 27, MATTHEW 5:17-19
Lenten Weekday
(Deuteronomy 4:1, 5-9; Psalm 147)
KEY VERSE: "But whoever obeys and teaches these commandments will be called greatest in the kingdom of heaven" (v. 19b).
TO KNOW: Like Moses, Jesus taught his followers that the law of God had lasting validity and must be obeyed. Jesus emphasized the permanency of God's law by saying that not even smallest letter in the Hebrew alphabet (yod; in Greek iota) or the tiniest flourish of the pen would pass from the law until its fulfillment in the final age. Jesus' dispute with the religious leaders was not with the Mosaic Law itself, but with their legalistic interpretation, expanding the law to 613 rules and regulations. Jesus deepened the meaning of the law through his words and works. He said that those who taught others that justice and charity was the true purpose of God's law, and practiced it by loving God and one another, would inherit a place in God's kingdom. Those who willfully disregarded God's law would be excluded from God's reign.
TO LOVE: Do I give good example by my respect for God's law?
TO SERVE: Lord Jesus, help me to be guided by your law in all I do.

THURSDAY, MARCH 28, LUKE 11:14-23
Lenten Weekday
(Jeremiah 7:23-28; Psalm 95)
KEY VERSE: "Every kingdom divided against itself will be laid waste and house will fall against house" (v. 17).
TO KNOW: Jesus was accused of casting out devils by the power of "Beelzebul" (Satan, a popular name for the master of demons). Jesus pointed out the absurdity of this accusation. He asked the crowd whether their own people performed exorcisms in the name of God or in Satan's name. If Satan ("adversary") used his power to cast out demons, then Satan would be working against himself and would eventually be defeated. Jesus was the "one mightier" prophesied by John the Baptist (Lk 3:16). Every word and act of Jesus' ministry was an attack on Satan's stronghold. Like Moses, Jesus power came from the "finger of God" (Ex 8:15). Whoever did not join Jesus in his opposition of evil assisted the adversary in his attempt to destroy God's realm.
TO LOVE: Pray the prayer to St. Michael the Archangel to protect your household from evil.
TO SERVE: Lord Jesus, help me to oppose evil wherever I see it.

Prayer to St. Michael the Archangel
Saint Michael the Archangel defend us in battle. Be our protection against the wickedness and snares of the devil. May God rebuke him, we humbly pray; and do Thou, O Prince of the Heavenly Host by the Divine Power of God cast into hell, Satan and all the evil spirits, who roam throughout the world seeking the ruin of souls. Amen

---
FRIDAY, MARCH 29, MARK 12:28-34
Lenten Weekday
(Hosea 14:2-10; Psalm 81)
KEY VERSE: "There is no other commandment greater than these" (v 31).
TO KNOW: The scribes were the learned interpreters of the Law of Moses. They expanded the Law into 613 greater and lesser rules and regulations. One scribe recognized Jesus' skill as a teacher, and asked him which one of the Mosaic Laws was the greatest. Jesus recognized the scribe's sincere search for truth, and summed up the entire Law with two basic decrees that he saw as inseparable. They were the laws upon which all the other commandments were based: to love God with one's entire being (Deut 6:2), and to love one's neighbor as oneself (Lev 19:18). The scribe saw how Jesus has combined two commands given to Israel by Moses, and he declared that the love of God and love of neighbor was worth more than any religious acts that one could perform. Because the scribe understood this principle, he moved a step closer to God's reign.
TO LOVE: Is my love of God demonstrated by the way I love my neighbor? Do I have a healthy self-love?
TO SERVE: Lord God, help me to serve you with all my heart, soul, mind and strength.
​

SATURDAY, MARCH 30, LUKE 18:9-14
Lenten Weekday
(Hosea 6:1-6; Psalm 51)
KEY VERSE: "For everyone who exalts himself will be humbled, and the one who humbles himself will be exalted" (v. 14).
TO KNOW: The Pharisees were a sect within Judaism who carefully observed the written law. In opposition to the Sadducees, the Pharisees also followed the traditional oral law, the 613 decrees beyond the Ten Commandments. Pharisees regarded themselves as the "separated ones" because of their staunch adherence of the law in contrast to, what they assumed, was the sinful behavior of the rest of humanity. Jesus tells the story of two individuals who went to the Temple to pray. One was a Pharisee and the other a tax-collector (Publican). The arrogant Pharisee regarded himself as superior to others, especially the tax-collector whom he held in contempt. He smugly stated his virtues and did not ask pardon from God for his sins. The tax-collector, on the other hand, recognized his sinfulness, and humbly prayed that God would forgive him. Jesus pronounced the tax-collector justified before God because he repented of his sins and confessed his need for salvation.
TO LOVE: Does my pride get in the way of acknowledging my sins?
TO SERVE: Pray the ancient Jesus Prayer: Lord Jesus, Son of God, have mercy on me, a sinner.

With broken heart and contrite sigh, a trembling sinner, Lord, I cry. Thy pardoning grace is rich and free, O God, be merciful to me!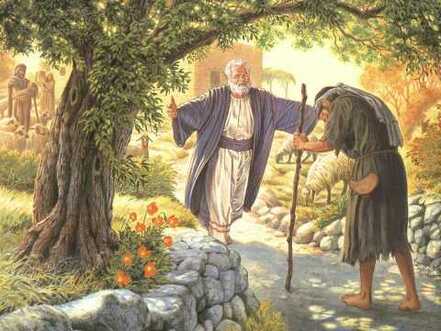 FOURTH SUNDAY OF LENT
SUNDAY, MARCH 31, LUKE 15:1-3, 11-32
(Joshua 5:9a, 10-12; Psalm 34; 2 Corinthians 5:17-21)
KEY VERSE: "But now we must celebrate and rejoice, because your brother was dead and has come to life again" (v. 32).
TO KNOW: When the religious leaders complained that Jesus associated with sinners, he reminded them of God's unconditional love for the wayward by telling them a parable. While it is known as the Parable of the Prodigal Son, it might better be called the Parable of the Compassionate Father. The elder son in the story represented the self-righteous, law-abiding religious leaders, while the younger son signified repentant sinners. When the younger son squandered his father's gifts, he realized the error of his ways, turned around (to repent, literally, "to rethink") and headed toward home. While he was still a long way off, his father caught sight of him and ran out to meet him. The prodigal believed that he was no more than a slave and no longer deserved to be called a son. But before he could make his confession, the father welcomed him back with a joyful celebration. But the elder brother was unhappy that his brother had come home, and referred to him, not as "my brother," but as "your son" (v. 30). His attitude showed that his obedience to his father was nothing more than grim duty and not loving service. We can all apply this story of repentance and reconciliation to our own lives. How often we waste God's gifts. We may even feel as though we have lost God's love. But if we take a few small steps by confessing our sinfulness, we discover that God is ready to meet us and welcome us to the Eucharistic banquet.
TO LOVE: Have I discovered the amazing grace available in confession?
TO SERVE: Loving Father, thank you for seating me at your table of love and mercy.​
---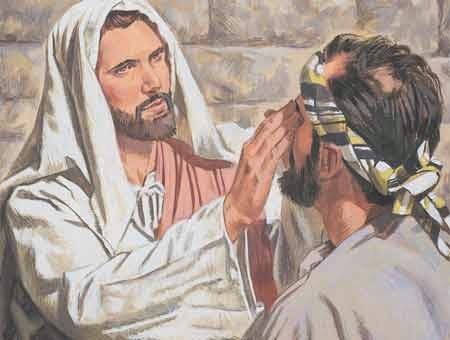 FOURTH SUNDAY OF LENT
SECOND SCRUTINY, JOHN 9:1-41 or 9:1, 6-9, 13-17, 34-38
(1 Samuel 16:1b, 6-7, 10-13a; Psalm 23; Ephesians 5:8-14)
KEY VERSE: "One thing I do know is that I was blind and now I see" (v.25).
TO KNOW: Jesus told his disciples that no follower of his would walk in darkness but would have the "light of life" (Jn 8:12). During the seven day feast of Tabernacles, the Temple area was illuminated with torches. On the last day of the festival, water from the pool of Siloam was poured on the altar in thanksgiving for the rain that assured a good harvest. Jesus declared that he was the fountain of "living water" that brought forth new life (7:37-38). Moreover, he was the "light of the world" who enlightened those in darkness (9:4). The story of the man born blind illustrated these two sayings of Jesus. When Jesus' disciples saw the blind man, they asked, "Rabbi, who sinned, this man or his parents that he was born blind?" Jesus answered that it was not due to the sins of the man, nor of his parents. It was so that the works of God might be made visible through him. Then Jesus made a mixture of clay and salvia, put it on the blind man's eyes, and told him to wash in the pool of Siloam (meaning "sent"). When he did so, his blindness was cured. The Pharisees, who were spiritually blind, accused Jesus of breaking the Sabbath law by healing the man. But the man knew that his healing had come from God, and he fell at Jesus' feet and acknowledged him as "Lord." This story was a popular feature of Baptismal ceremonies in the early Church. St. Augustine said, "The blind man is the whole human race."
TO LOVE: Have I been praying for the Elect who are journeying to baptism this Lent?
TO SERVE: Lord Jesus, you are a lamp to my feet, leading me to the waters of your healing grace.

NOTE: On the Fourth Sunday of Lent, we celebrate the Second Scrutiny and Exorcism for the Elect (RCIA, 165). When the elect, catechumens and candidates are present, the story of the Man Born Blind is read (Jn 9). In the Scrutiny Rites, those preparing for baptism at the Easter Vigil as well as the entire assembly are called to examine the areas in their lives that block God's love and blind them to God's healing presence.​​
---
MONDAY, APRIL 1, JOHN 4:43-54
Lenten Weekday
(Isaiah 65:17-21; Psalm 30)
KEY VERSE: "Jesus said to him, `Your son will live,' and he and his whole household came to believe" (v.53).
TO KNOW: Jesus returned to Cana in Galilee where he had changed water to wine (Jn 2:1-12). In John's gospel this was the first "sign," or self-revelation of Jesus. A royal official approached Jesus and begged him to heal his dying son. Jesus was dismayed because the people refused to believe in him unless they witnessed "signs and wonders" (v.48). When the man begged him a second time, Jesus told him that his son would live. On the strength of Jesus' word, the official returned to his home. As he went on his way, his servants met him and announced that the man's son had recovered at the very hour that Jesus declared he would live. The official and his whole household came to believe in Jesus' saving power. This was the second sign that Jesus performed in Cana in Galilee.
TO LOVE: Do I put my trust in the Lord's healing word?
TO SERVE: Lord Jesus, help me to have faith even when I do not see any evidence.​

April Fool's Day
Ancient cultures, including the Romans, celebrated New Year's Day on April 1, which closely follows the vernal equinox (March 20th or 21st.). In medieval times, much of Europe celebrated March 25, the Feast of Annunciation, as the beginning of the New Year. In 1582, Pope Gregory XIII ordered a new calendar (the Gregorian calendar) to replace the old Julian calendar. The new calendar called for New Year's Day to be celebrated January 1. Communication being what it was in those days, many people did not receive the news for several years. Others refused to accept the new calendar and continued to celebrate New Year on April 1. These backward folk, labeled as "fools," were subject to ridicule and made the butt of practical jokes.
"The first of April is the day we remember what we are the other 364 days of the year." - Mark Twain​
---
TUESDAY, APRIL 2, JOHN 5:1-16
Lenten Weekday
(Ezekiel 47:1-9. 12; Psalm 46)
KEY VERSE: "Rise, take up your mat, and walk" (v.8).
TO KNOW: The third "sign, of God's mighty work in John's gospel was the healing of the paralytic who had been crippled for 38 years. Excavations have uncovered the Bethesda pool with its five porticoes where Jesus healed the man. A popular belief of the time was that when the water became turbulent (caused by a sudden inflow through the drain) the first person to get into the pool would be cured (v.4, the account of an angel stirring up the waters is missing from early Greek manuscripts and is probably a later addition). When Jesus asked the crippled man if he wanted to be healed, the man explained that no one had ever helped him into the water (a baptismal symbol). Jesus' powerful word restored the man to full health. But the healing was surrounded by disbelief and accusations that Jesus violated the law by curing on the Sabbath. Jesus warned them that it was sin, more than physical infirmity, which prevented a person from responding to God's grace.
TO LOVE: In what ways do I need to "rise and walk" this Lent?
TO SERVE: Lord Jesus, heal me of everything that makes me unable to walk in your grace.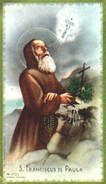 Optional Memorial of Saint Francis of Paola, hermit
St. Francis was born at Paula in the
I
talian province of Calabria. After living as a hermit for five years (from age 14-19) he gathered around him some companions. These "Hermits of St. Francis of Assisi" dwelt in small houses, and as "least" brethren, endeavored to live a more austere and humble life than the "Fratres Minores." This was the origin of a new order, to which he gave the name of Minims, "the least" in the house of God. The saint worked numerous miracles. He had a favorite prayer for him and for his companions, one that welled up from the depths of his being: "Out of love." Pope Sixtus IV sent him to France to help Louis XI on his deathbed. He remained there and founded a house of his Minims at Tours.
---
WEDNESDAY, APRIL 3, JOHN 5:17-30
Lenten Weekday
(Isaiah 49:8-15; Psalm 145)
KEY VERSE: "My Father is at work until now, so I am at work" (v.17).
TO KNOW: In Jesus' day, a son learned his trade by watching his father at work. Thus, Jesus learned carpentry from his earthly father, Joseph. Similarly, Jesus imitated his heavenly Father's creative and redemptive work. When Jesus was accused of violating the Sabbath law by healing a cripple (Jn 5:1-16), he declared that God's activity was ongoing. Jesus did not act on his own accord; he only did what the Father was doing. Jesus received divine power from the Father to exercise judgment and authority over life and death. Jesus' word brought healing and life to those who believed in the One who sent him, and condemnation to those who did not. At the last judgment, everyone who hears Jesus' voice and obeys his word will be raised to eternal life.
TO LOVE: Do I reveal God's saving work by what I say and do?
TO SERVE: Lord Jesus, help me to be a faithful child of your Father.
​

THURSDAY, APRIL 4, JOHN 5:31-47
Lenten Weekday
(Exodus 32:7-14; Psalm 106)
KEY VERSE: "If I testify on my own behalf, my testimony cannot be verified" (v.31).
TO KNOW: Jewish law prohibited persons from testifying on their own behalf. Two or three witnesses were needed to give evidence regarding any offense that might have been committed (Deut 19:15). Jesus presented four valid witnesses for the truth of his words. First, John the Baptist was a "lamp" who gave witness to the "light" that Jesus came to reveal (Jn 1:7). Second, the works that Jesus accomplished testified that God had sent him. Third, God's Word gave witness to Jesus. Nevertheless, people searched the scriptures to find life, and refused to come to Jesus who was God's life-giving word (Jn 1:1). Finally, God the Father gave the conclusive testimony. No one had ever seen the invisible God, nor heard God's voice, yet God was fully revealed in Jesus Christ, God's Son.
TO KNOW: Do I give testimony to Jesus by what I say and do?
TO SERVE: Lord Jesus, help me to recognize you in your word and in all your works around me.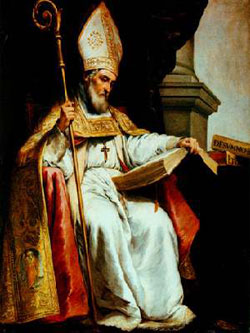 Optional Memorial of Saint Isidore, bishop and doctor of the Church
Isidore became Archbishop of Seville c.601, succeeding his brother to the position. Teacher, founder and reformer, Isidore required the establishment of seminaries in every diocese, and wrote a rule for religious orders. Isidore introduced the works of Aristotle to Spain, and completed the Mozarabic liturgy which is still in use in Toledo. He presided at the Second Council of Seville, and the Fourth Council of Toledo. The Archbishop of Seville was considered the most learned man of his century. He was the first Christian writer to compile a summary of Catholic theology in his most important work, the Etymologiae, similar to a dictionary. Isidore is known at the Patron Saint of the Internet, computers technicians, and computer users. He was proclaimed a Doctor of the Church by Pope Benedict XIV in 1722. "All spiritual growth comes from reading and reflection. By reading we learn what we did not know; by reflection we retain what we have learned. Reading the holy Scriptures confers two benefits. It trains the mind to understand them; it turns man's attention from the follies of the world and leads him to the love of God.—Saint Isidore

---
FRIDAY, APRIL 5, JOHN 7:1-2, 10, 25-30
Lenten Weekday
(Wisdom 2:1a, 12-22; Psalm 34)
KEY VERSE: "I did not come on my own, but the one who sent me, whom you do not know, is true" (v.28).
TO KNOW: The Jews celebrated three major feasts annually: Passover, Pentecost, and Tabernacles. The Feast of Tabernacles was also known as the Feast of Booths (Hebrew, Sukkot). During the seven day feast, the people dwelt in branched "booths" (or tents), a commemoration of the time when their ancestors lived in tents during their wilderness journey (Lev 23:43). During the celebration, the people offered thanksgiving for the temple, the place of worship in the Promised Land (1 Kgs 8:2; 12:32). They also gave thanks for the crops harvested that year (Deut 16:13; Ex 23:16). When some relatives of Jesus urged him to go to the feast and publicly perform his miracles, he knew that his life would be at risk. So Jesus went in secret and, while he was there, he taught in the temple. Some people knew Jesus' human origin. They knew that his home was in Nazareth; they knew his parents; and they knew his brothers and sisters (close relatives). But popular belief held that the Messiah would appear suddenly and no one would know where he had come from. Jesus declared that he had not come on his own. He had been sent by God, the one whom they did not know.
TO LOVE: Am I growing in God's word through Jesus this Lent?
TO SERVE: Lord Jesus, dwell with me throughout my life's journey.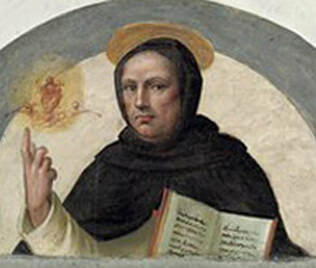 Optional Memorial of Saint Vincent Ferrer, priest
Vincent Ferrer was born in 1357 and, against his family's wishes, he became a Dominican Friar at age 18. He became a priest and missionary, and a great preacher who converted thousands in Spain, France, Italy, Germany, Holland, England, Scotland, and Ireland. Vincent was invited to preach in Muslim Granada. He was the counselor to Pope Benedict XIII and adviser to the King of Aragon. Vincent traveled through Spain, France, Switzerland and Italy to end the Great Schism of 1054, the break of communion between the Catholic Church and Eastern Orthodox churches. Vincent had the gift of tongues and was a miracle worker. He is a Doctor of theology and is the patron saint of builders because of his fame for "building up" and strengthening the Church through his preaching, missionary work, his teachings, and as confessor and adviser.
"If you truly want to help the soul of your neighbor, you should approach God first with all your heart. Ask him simply to fill you with charity, the greatest of all virtues; with it you can accomplish what you desire." – Vincent Ferrer

---
SATURDAY, APRIL 6, JOHN 7:40-53
Lenten Weekday
(Jeremiah 11:18-20; Psalm 7)
KEY VERSE: "So a division occurred in the crowd because of him" (v.43).
TO KNOW: The Feast of Tabernacles (Hebrew, Sukkot) was a commemoration of the people of God's journey in the exodus. It was also a festival to thank God for the rain that brought forth the harvest. While Jesus was attending the feast, he proclaimed that he was the source of the "living water" of the Spirit (Jn 4:10; 7:37-38; 1 Cor.10:4). The people were divided in their opinion of Jesus. It was believed that the Messiah would come from David's city of Bethlehem in Judea (Mi 5:1), whereas, Jesus was from Galilee, the region of the gentiles, belittled because of its large Gentile population. However, the temple police were impressed by Jesus' words and did not arrest him. The religious leaders contemptuously retorted that only the unlearned crowd believed in Jesus. Nicodemus, a doctor of the Law who had a personal encounter with Jesus (Jn 3:1-21), defended Jesus. The Pharisees sarcastically told Nicodemus to look in the Scriptures and find out the Messiah's origin for himself. Although they searched the scriptures, they did not realize that God's Word gave testimony to Jesus, the resurrection and the life.
TO LOVE: Do I defend my faith when others demean it?
TO SERVE: Lord Jesus, help me to know you in a personal way as Nicodemus did.
​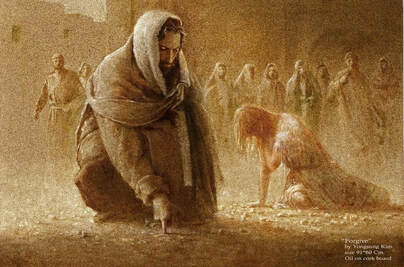 FIFTH SUNDAY OF LENT
SUNDAY, APRIL 7, JOHN 8:1-11
(Isaiah 43:16-21; Psalm 126; Philippians 3:8-14)
KEY VERSE: "Let the one among you who is without sin be the first to throw a stone at her" (v.7).
TO KNOW: Jews considered idolatry, murder and adultery as the three gravest sins, each one punishable by death. The scribes and the Pharisees tried to entrap Jesus by bringing a woman caught in adultery to him, even though the law stated that both the adulterer and the adulteress should be put to death (Lev 20:10). When they asked Jesus what should be done with her, he was caught in a dilemma. If he pardoned her it might appear as if he condoned her sin and had no regard for the Law of Moses. To condemn her would put him in opposition to Roman law, which did not allow Jews to administer capital punishment. Jesus bent over and wrote in the sand. The Greek word used was "katagraphein," which meant to write down something against a person. Perhaps Jesus wrote the sins of the religious leaders. The woman's accusers were unable to bring themselves to admit their own guilt. Beginning with the elders, they slowly drifted away. St. Augustine said, "There remained a great misery for the sinner and a great mercy from the sinless one." Although Jesus passed no judgment on the woman, he sent her away to start a new life free from sin.
TO LOVE: Am I quick to judge the faults of others?
TO SERVE: Lord Jesus, thank you for setting me free from my sins.

---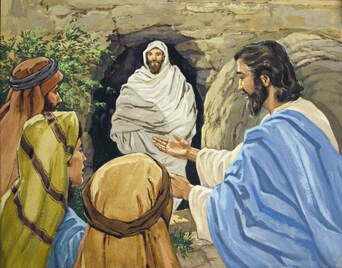 FIFTH SUNDAY OF LENT
THIRD SCRUTINY, JOHN 11:1-45 or 11:3-7, 17, 20-27, 33b-45
(Ezekiel 37:12-14; Psalm 130; Romans 8:8-11)
KEY VERSE: "I am the resurrection and the life; whoever believes in me, even if he dies, will live" (v.25).
TO KNOW: Lazarus was dying, and Martha and Mary sent word to Jesus to come immediately to the village of Bethany where they lived with their brother. The disciples feared for Jesus' life as the town was near Jerusalem. Knowing his fate awaited him in the Holy City, Jesus declared that God's glory would be revealed so that all might believe. Jesus was delayed in coming, and upon his arrival, Martha told Jesus that he was too late; her brother had already died. Although Martha reproached Jesus for not coming sooner, she was confident that God would grant whatever he asked. Jesus told her that he had power over life and death, and asked her if she believed that his words were true. Like Peter, Martha confessed her faith in Jesus as the "Messiah, the Son of God" (Mt 16:16). With a powerful command, Jesus raised Lazarus to life, a symbol of Christ's own resurrection and our rising to new life with him. Ironically, it was this gift of life that would lead to Jesus' own death, which offered salvation to the whole world.
TO LOVE: Does my parish have a bereavement ministry to assist those grieving over loss of a loved one?
TO SERVE: Lord Jesus, raise me to new life in you.
​
NOTE: On the Fifth Sunday of Lent, we celebrate the Third Scrutiny of the Elect (RCIA, 171). When the elect, catechumens and candidates are present, the story of the Raising of Lazarus is read (Jn 11).In the Scrutiny Rites, those preparing for baptism at the Easter Vigil as well as the entire assembly are called to examine the areas in their lives that block God's love and discover where they are entombed in sin and need to experience the life of the Risen Christ. During this week the Presentation of the Lord's Prayer is celebrated with the elect (RCIA, 178).


---