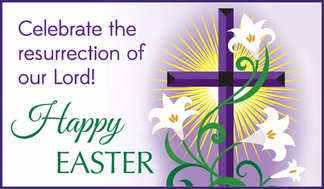 Easter Blessings! Alleluia!
Following an ancient tradition, the Church regards the eight days (an octave) from the Paschal feast to the Second Sunday of Easter as a single unit of celebration. The preface for Easter day is prayed again on the Second Sunday even though it is a week behind us: "We praise you with greater joy than ever on this Easter day." The celebration of the liturgy is full of joy at the close of the octave of this greatest feast! The Easter season of 50 days continues through the Feast of Pentecost.

---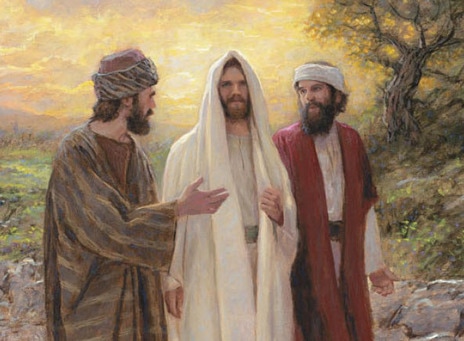 THIRD SUNDAY OF EASTER
SUNDAY, APRIL 30, LUKE 24:13-35
(Acts 2, 14, 22-33; Psalm 16; 1 Peter 1:17-21)
KEY VERSE: "With that their eyes were opened and they recognized him" (v 31).
TO KNOW: As two disciples returned to their home in Emmaus from their Passover pilgrimage to Jerusalem, they discussed the meaning of the events they had witnessed there. As they journeyed along the road, the Risen Christ appeared to them, but they mistook him for another pilgrim. They told the "stranger" that although Jesus was a mighty prophet, their hopes and dreams that "he was the one to redeem Israel" (Lk 24:21) were shattered at the crucifixion. They also told him of the rumor that some women went to the tomb and found it empty, but the apostles dismissed their story as nonsense. Jesus listened to their anguished tale, and then explained that God's plan had been revealed in Moses and the prophets (the Jewish scriptures), and that it was necessary that the Messiah should suffer so as to enter glory. At nightfall, the disciples urged Jesus to stay and share a meal with them. Though the disciples' eyes had been closed to Jesus' presence, they recognized him "in the breaking of the bread" (v 35), and then he vanished from their sight. Unable to keep the good news to themselves, they hastened back to Jerusalem with great joy. There they discovered that the apostles had already experienced the Risen Christ. Although he is physically absent, Jesus continues to be with his followers through the Word and Eucharist.
TO LOVE: How can I help others discover Jesus on their spiritual journeys?
TO SERVE: Risen Lord, open my eyes to your presence in the scriptures and the sacrament.​
---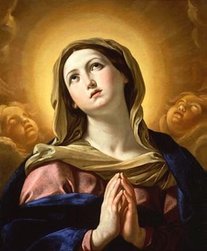 MAY IS MARY'S MONTH
The month of May, with its profusion of blooms, was adopted by the Church in the eighteenth century as a celebration of the flowering of Mary's spirituality. In Isaiah's prophecy of the Virgin birth of the Messiah, the figure of the Blossoming Rod, or Root of Jesse, the flower symbolism of Mary was extended by the Church Fathers, and, in the liturgy, by applying to her the flower figures of the Biblical books of Canticles, Wisdom, Proverbs and Sirach. In the medieval period, the rose was adopted as the flower symbol of the Virgin Birth, as expressed in Dante's phrase, 'The Rose wherein the Divine Word was made flesh,' and depicted in the rose windows of the great Gothic cathedrals, from which came the Christmas carol, 'Lo, How a Rose 'ere Blooming.' Also, with the spread of the Franciscan love of nature, the rose of the fields, waysides and gardens, came to be seen as symbols of Mary.

---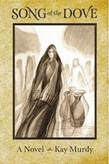 SONG OF THE DOVE
A novel of Mary of Nazareth by Kay Murdy
Here is the story of a Jewish woman of the first century, Miryam of Nazareth, who lived in a tiny village nestled in the hills of Israel. She had parents, friends, a husband, a son, and she struggled to understand the strange things happening to her in a time and a place with more than its share of turmoil, both political and religious. What happened tested both her faith and courage. ACTA Publications. Order:http://www.actapublications.com or at www.amazon.com
---
MONDAY, MAY 1, JOHN 6:22-29
Easter Weekday
​(Acts 6:8-15; Psalm 119)
KEY VERSE: "Do not work for food that perishes but for the food that endures for eternal life" (v.27).
TO KNOW: After the miraculous multiplication of loaves, the crowd noticed that Jesus' disciples had departed by boat across the Sea of Galilee. Assuming that Jesus was nearby, they waited impatiently for his return. Failing to find him, they crossed the lake to Capernaum in search of him. When they found him, Jesus said that they were looking for him for the wrong reasons. They desired the bread that he gave them in the wilderness, but they missed the true meaning of the sign, food that "endures for eternal life" (6:27). Jesus told the crowd that food appeased hunger momentarily. They should look to God to satisfy their spiritual needs. No one could work for this gift, nor earn it. The only way to receive it was to believe in Jesus, the one who God sent to them.
TO LOVE: What can I do to feed the spiritual hunger of someone?
TO SERVE: Risen Lord, you are the life-giving nourishment that I desire.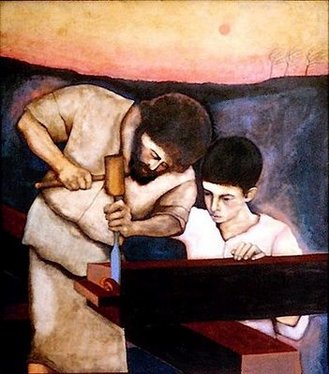 Optional Memorial of Saint Joseph the Worker
Despite his humble background, Joseph came from a royal lineage, a descendant of David, the greatest king of Israel. Joseph was chosen by God as the trustworthy guardian of his divine Son. Joseph was wholeheartedly obedient to God - in marrying Mary, in naming Jesus, in shepherding the family to Egypt, in bringing them to Nazareth, and in the undetermined number of years of quiet faith and courage. Joseph carried out this vocation with complete fidelity until at last God called him, saying: 'Good and faithful servant, enter into the joy of your Lord". There is much we wish we could know about Joseph - where and when he was born, how he spent his days, when and how he died. But Scripture has left us with the most important knowledge of who he was - "a righteous man" (Matthew 1:18)
Work is a good thing for one's humanity — because through work one not only transforms nature, adapting it to his or her own needs, but also achieves fulfillment as a human being and indeed, in a sense, becomes "more a human being." —Pope John Paul II

---
TUESDAY, MAY 2, JOHN 6:30-35
(Acts 7:51 ̶ 8:1a; Psalm 31)
KEY VERSE: "I am the bread of life; whoever comes to me will never hunger, and whoever believes in me will never thirst" (v.35).
TO KNOW: Even though the people had witnessed Jesus' multiplication of the loaves in the wilderness, they demanded another "sign" such as Moses gave their ancestors, the "manna" in the desert (Ex 16:15). By seeking signs, they were looking for perishable food and were missing the true nourishment that God had given them. The people were focusing on their physical hunger. They must look to Jesus who was the authentic sign of God's providential care. It was God, not Moses, who provided the "bread from heaven" (v.32). Jesus is the "Bread of Life" (v.35) who gives eternal salvation for all who believe in him.
TO LOVE: Is there someone I can help to appreciate Jesus' presence in the Eucharist?
TO SERVE: Risen Lord, you are the bread that feeds my soul for life everlasting.​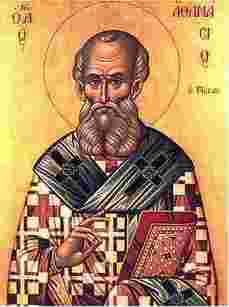 Memorial of Saint Athanasius, bishop and doctor of the Church
Athanasius was born in Alexandria, Egypt, towards the end of the third century, and from his youth was pious and deeply versed in the sacred writings. While still a deacon, he was chosen by Alexander, his bishop, to go with him to the Council of Nicea, A.D. 325. There Athanasius defended the Church against the Arian heresy, which denied the Divinity of Christ When Alexander was dying, he recommended Athanasius to be his successor as Patriarch of Alexandria, and he served in that office for forty-six years. When the dispute over Arianism spilled over from theology to politics, Athanasius was exiled five times, and spent more than a third of his episcopate in exile. He is a biographer of Saint Anthony the Abbot, a Confessor of the faith and Doctor of the Church.
NOTE: Arianism taught that Christ was a creation of the Father, a creature, and not part of God. Athanasius formulated the doctrine of homoousianism which said that Christ was "consubstantial with the Father," as we pray in the Nicene Creed.

---
FEAST OF SAINTS PHILIP AND JAMES, APOSTLES
WEDNESDAY, MAY 3, JOHN 14:6-14
(1 Corinthians 15:1-8; Psalm 19)
KEY VERSE: "The one who believes in me will also do the works that I do" (v. 12).
TO KNOW: Jesus told his disciples that he was the "way" to God's "truth and life" (v.6). When Philip asked for some manifestation of the Father, Jesus told him that if he really understood who he was, he would "see" the Father. Jesus was the flesh and blood revelation of God. His words and works were not his alone; they came from his unity with the Father. If Jesus' disciples could not believe what he told them, then at least they should believe in the deeds that he did. He promised that those who had faith in him would be empowered by the Spirit to do even greater works than he had done. When Jesus returned to the Father, he would continually intercede on their behalf (Ro 8:34; Hb 4:14 - 5:10).
TO LOVE: Do I hand on the faith that I have received, just as the apostles did in their time?
TO SERVE: St. Philip and St. James, pray that the Church will have the grace to accomplish Christ's works on earth as you did.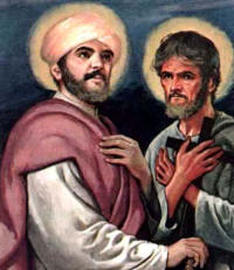 SAINT PHILIP AND SAINT JAMES, APOSTLES
Philip was born in Bethsaida, Galilee, and may have been a disciple of Saint John the Baptist. Philip was called by Jesus (Jn 1:43-48) on the day after Peter and Andrew. Philip began his evangelizing efforts by bringing Nathaniel (Bartholomew) to Jesus. When Nathaniel asked, "Can anything good come from Nazareth?" Philip replied: "Come and see" (Jn 1:43). Philip was present at the miracle of the loaves and fishes (6:1-15), and was the Apostle approached by the Hellenistic Jews from Bethsaida to introduce them to Jesus (12:21ff). Just before the Passion, Jesus answered Philip's query to show them the Father (14:8ff), but no further mention of Philip is made in the New Testament beyond his listing among the apostles awaiting the Holy Spirit in the Upper Room (Acts 1:13). According to tradition, Philip preached in Greece and was crucified at Hierapolis in Phrygia under Emperor Domitian, c. 80 AD.
---
The names "James the Less" or "James the Younger" is usually applied to James the son of Alphaeus (Mk 15:40). He was favored by an appearance of the Risen Christ (I Cor 15:7). After the dispersion of the Apostles he was made Bishop of Jerusalem. He was visited by Saint Paul (Gal 1:19), and spoke after Peter at the meeting of the Apostles in Jerusalem (Acts 15:13). A tradition said that when James was ninety-six years old and had governed the Church for thirty years in a most holy manner, he refused to deny the Divinity of Christ. He was cast down from the terrace of the temple and clubbed to death. The Breviary contains a very moving description of his death. "As he lay there half dead, with legs broken by the fall, he lifted his hands toward heaven and prayed to God for the salvation of his enemies, saying: 'Lord, forgive them for they know not what they do!' While the Apostle was still praying, a fuller struck his head a mortal blow." His relics now rest next to those of Saint Philip in the church of the Holy Apostles in Rome, and their names are mentioned in the first list in the Canon of the Mass.
​

THURSDAY, MAY 4, JOHN 6:44-51
Easter Weekday
(Acts 8:26-40; Psalm 66)
KEY VERSE: "This is the bread that comes down from heaven so that one may eat it and not die" (v.50).
TO KNOW: On the Exodus journey through the wilderness, the people grumbled against God and Moses for having brought them into the desert only to die of starvation. Nevertheless, Moses fed them with the "manna" that God provided (Ex 16:2, 15). Jesus also fed the hungry people in the wilderness with miraculous loaves, and just like the people of the Exodus, they murmured against him when he told them that he was the "bread that came down from heaven" (v.41). The bread in the wilderness was only a foretaste of the true bread, Jesus, who came from God. The Israelites ate the manna in the desert, but they all died. Jesus is the life-giving bread who eternally sustains those who believe in him. Whoever listens to God's truth are drawn to Jesus who is Divine Wisdom incarnate.
TO LOVE: Do I help those who are physically and spiritually hungry?
TO SERVE: Risen Lord, feed me with your Eucharistic presence.


FRIDAY, MAY 5, JOHN 6:52-59
Easter Weekday
(Acts 9:1-20; Psalm 117)
KEY VERSE: "Whoever eats my flesh and drinks my blood has eternal life, and I will raise him on the last day" (v.54).
TO KNOW: In the sixth chapter of John's Gospel, there are two important elements in Jesus' pronouncement that he was the "bread of life" (v.35). He is both word and sacrament. In John 6:35-50, the "bread of life" is a figure of God's revelation in Jesus: the "word made flesh" (1:14). Beginning in verse 51, the sacramental theme comes to the fore. Jesus plainly says that his flesh is "true food" and his blood is "true drink" (v.55). The Greek word that John used was not merely symbolic (phago means to "eat" or "devour"). He speaks of the reality of Jesus' flesh and blood in his Eucharistic presence. Through word and sacrament, Jesus continues to feed us spiritually, transforming and uniting us to him so that we can worthily enter God's eternal reign.
TO LOVE: Am I aware of Christ's true presence when I participate in the Eucharist?
TO SERVE: Risen Lord, feed me at your table of eternal life.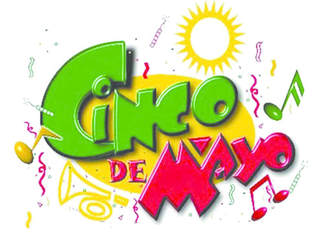 CINCO DE MAYO, MAY 5
The holiday of Cinco De Mayo, the 5th Of May, commemorates the victory of the Mexicans over the French army at The Battle of Puebla in 1862. It is primarily a regional holiday celebrated in the Mexican state capital city of Puebla and throughout the state of Puebla, with some recognition in other parts of Mexico. It is not, as some think, Mexico's Independence Day, which is actually September 16. Celebrating Cinco de Mayo has become increasingly popular along the U.S.-Mexico border and in parts of the U.S. that have a high population of people with a Mexican heritage. In these areas the holiday is a celebration of Mexican culture, of food, music, beverage and customs unique to Mexico.
---
SATURDAY, MAY 6, JOHN 6:60-69
Easter Weekday
(Acts 9:31-42; Psalm 116)
KEY VERSE: "The words that I have spoken to you are spirit and life" (v.63).
TO KNOW: Jesus' teaching that he was the "bread of life" (v.48) caused a division among those who had faith in him and those who did not. Some of Jesus' own disciples had misgivings about his teaching. Jesus did not retract his words but invited his followers to deeper faith in this mystery, which they could only understand through God's grace. If people could not believe that he was Gods' word become flesh (Jn 1:14), what would they think when he ascended to his Father in glory? Many of his disciples turned back and no longer followed him. Jesus then asked the Twelve if they too planned to leave him. Peter, the future leader of the Church, confessed his faith in the life-giving words of Jesus. There was no one else to whom he could go. The twelve apostles are mirrors of ourselves ̶ ̶ flawed but graced human beings.
TO LOVE: Do my words bring others to faith or drive them away?
TO SERVE: Risen Lord, help me to believe your words of everlasting life.
​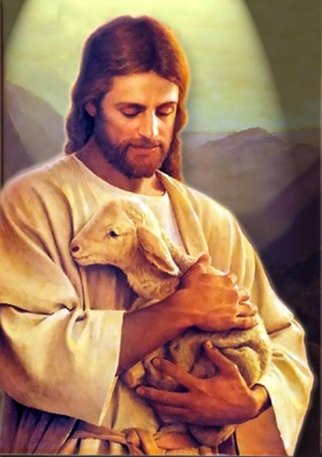 FOURTH SUNDAY OF EASTER
SUNDAY, MAY 7, JOHN 10:1-10
(Acts 2:14a, 36-41; Psalm 23; 1 Peter 2:20b-25)
KEY VERSE: "I came that they might have life and have it to the full" (v.10).
TO KNOW: The figure of God as a shepherd who guides and protects the flock was taken from Israel's pastoral life. Sheep that belonged to various shepherds were brought together in a sheepfold at night. At daybreak, the watchman would open the gate. The shepherd knew his own sheep and he would call each one by name as he led them out of the sheepfold. The sheep recognized the shepherd's voice and would follow no one else. The shepherd would walk ahead of his flock as they followed him to a place where they would be safe from thieves who might come to "steal and slaughter and destroy" (v.10). Jesus is the "gate for the sheep" (v.7). Those who enter through him will be saved.
TO LOVE: Do I pray for the Pope, my bishop and Pastor who shepherd God's people?
TO SERVE: Risen Lord, help me to follow you as you guide me day by day.
​
NOTE: Good Shepherd Sunday
The Fourth Sunday of Easter is referred to as Good Shepherd Sunday. In John 21:15-18, Jesus makes Peter the chief shepherd of the flock. This day was designated in 1964 as the World Day of Prayer for Vocations. In his Easter message Pope Francis I declared: "The Risen Shepherd goes in search of all those lost in the labyrinths of loneliness and marginalization. He comes to meet them through our brothers and sisters who treat them with respect and kindness, and help them to hear his voice, an unforgettable voice, a voice calling them back to friendship with God." The Church's sanctity depends essentially on her union with Christ and her openness to the mystery of grace at work in the hearts of believers.

---
MONDAY, MAY 8, JOHN 10:11-18
Easter Weekday
(Acts 11:1-18; Psalm 42)
KEY VERSE: "I am the good shepherd. A good shepherd lays down his life for the sheep" (v.11).
TO KNOW: Throughout the Old Testament, God's loving care for the people had been portrayed as a shepherd guiding the flock (Ps 23). God's servants Moses and David were once shepherds. Jeremiah and Ezekiel indicted Israel's blind leaders, the shepherds who looked out for their own interests rather than those of their flocks. God would appoint "one shepherd" like David to lead them (Jer 23:1-4; Ez 34:23). Jesus, the "good shepherd," knew his sheep personally by name. He protected them from harm, even willing to lay down his life for the sake of the flock. No one could be hired to care for his sheep that way. Jesus prayed that one day there would be "one flock, one shepherd" (v.16) united in his saving love, a prayer that is yet to be realized.
TO LOVE: What can I do to help work for Church unity?
TO SERVE: Risen Lord, thank you for being my guiding shepherd.


TUESDAY, MAY 9, JOHN 10:22-30
Easter Weekday
(Acts 11:19-26; Psalm 87)
KEY VERSE: "But you do not believe, because you are not among my sheep" (v.26).
TO KNOW: As a faithful Jew, Jesus went to the temple for the Feast of Dedication (Hanukkah). This feast commemorated the rededication of the temple by the Maccabees after its desecration in 164 BCE by the Syrian King Antiochus IV.Epiphanes (1 Mc 4:36-59). While in the temple, Jesus was confronted by those who demanded to know whether or not he claimed to be the Messiah. Jesus pointed to the works that he did as evidence that God had sent him. The words and deeds of Jesus were the words and deeds of God. The reason his adversaries did not recognize him was because they did not belong to his flock. Those who belonged to Jesus knew him and followed him. God gave these faithful ones to Jesus, the "good shepherd" (v.11), who kept careful watch over his own. No one could snatch them from his hand because he and the Father were one
TO LOVE: Do I follow Christ when he calls?
TO SERVE: Risen Lord, help me to discern your voice from the voices of those who would lead me astray.
​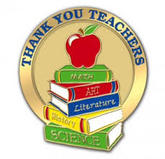 ​NATIONAL TEACHER APPRECIATION DAY
National Teacher Day is always celebrated the first Tuesday of the first full week of May. Eleanor Roosevelt persuaded the 81st Congress to proclaim a National Teacher Day in 1953. Teachers are true heroes in our communities, who through their dedication to children, work millions of small miracles every day. This day honors those hard working, patient and understanding people to whom we entrust our children. So let's give them their due. And, if you happen to be a teacher reading this, we personally offer our thanks, for the future of our world is in your hands.

---
WEDNESDAY, MAY 10, JOHN 12:44-50
Easter Weekday
(Acts 12:24 ̶ 13:5a; Psalm 67)
KEY VERSE: "Whoever believes in me believes not only in me but also in the one who sent me" (v.44).
TO KNOW: In the prologue to John's Gospel, Jesus was described as the "Word made flesh" (Jn 1:14). In Jesus' words and deeds, in his life, death and resurrection, he was the fullness of divine revelation. Whoever saw Jesus saw God, and whoever heard Jesus heard God's own words. All who believed in Jesus' life-giving word must also believe in the one who sent him. Jesus did not speak on his own authority, but by God's command. The light of God's truth, which Jesus revealed, cast out the darkness of sin and ignorance in the world. Each individual is given the freedom to accept or reject this truth. Jesus did not come to condemn those who refused to believe in him (Jn 3:17); however, anyone who denied the truth would be judged by God's Word.
TO LOVE: Do I proclaim the word of God in what I say and what I do?
TO SERVE: Risen Lord, increase my faith in your word.
​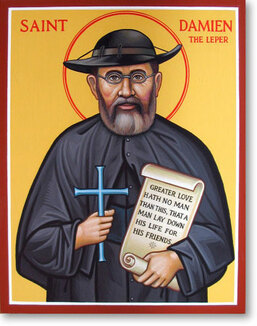 Optional Memorial of Saint Damien Joseph de Veuster of Moloka'i, priest
The "Leper Priest of Moloka'i," named Joseph at birth, received the name Damien in religious life when he joined the Sacred Hearts Fathers in 1860. In 1864, he was sent to Honolulu, Hawaii where he worked in missions. In 1873, he went to the leper colony on Moloka'i, after volunteering for the assignment. Damien cared for lepers of all ages, but was particularly concerned about the children segregated in the colony. Although he contracted leprosy in 1885 he continued to build hospitals, clinics, and churches, and some six hundred coffins. He died on April 15, on Moloka'i. Robert Louis Stevenson defended Damien against a slanderous attack in 1905. Damien was canonized on October 11, 2009 by Pope Benedict XVI. It was during Damien's years at Moloka'i that a Norwegian doctor, Gerhard Hansen, first identified the bacillus of leprosy. Today, Hansen's disease, as leprosy is now called, can be slowed and sometimes totally halted, but it still remains a serious illness. The World Health Organization estimates that there are currently 10-12 million cases of Hansen's disease worldwide.

---
THURSDAY, MAY 11, JOHN 13:16-20
Easter Weekday
(Acts 13:13-25; Psalm 89)
KEY VERSE: "No slave is greater than his master nor any messenger greater than the one who sent him" (v.16).
TO KNOW: Chapter one through twelve of John's gospel is called the "Book of Signs." Chapter thirteen begins the "Book of Glory" (13:1--20:31). On the threshold of Jesus' passion, resurrection and glorious ascension, he took the role of a lowly slave, washing the feet of his disciples (v.1-15). He told his followers that as servants and messengers of the gospel (Greek, apostolos), they must imitate his humility and love: "You also should do as I have done to you" (13:15). A disciple was one who learned from the master, and acted on his words. If his followers truly understood this, they would be blessed, and all who received Jesus' messengers would be blessed in turn. But Jesus' words were not received by all. In the midst of this outpouring of love, Judas prepared to betray his master. Jesus told his disciples this before it happened, "so that you will believe that I AM" (13:19). Jesus' "I AM" statement indicates that he was equating Himself with the "I AM" title of God revealed to Moses (Ex 3:14, Ego Eimi).
TO LOVE: How have I served the Lord and his people today?
TO SERVE: Risen Lord, help me to understand that the way to glory is through humble service.
​

FRIDAY, MAY 12, JOHN 14:1-6
Easter Weekday
(Acts 13:26-33; Psalm 2)
KEY VERSE: "I am the way and the truth and the life" (v.6).
TO KNOW: As Jesus approached his impending death, he prepared his disciples for the work that he would hand over to them. He told them that it was necessary for him to go so that he could prepare a place for them. Jesus assured them that they would know the way to the place where he was going. His anxious disciples were troubled by Jesus' words, and Thomas plaintively asked, "How can we know the way?" (v.5). Jesus assured them that he was the "way" to God's "truth," which he revealed by his words and deeds. He was the bridge to the Father and to "life" eternal. Jesus likened heaven to a huge mansion in which there were many rooms. He promised his faithful followers that he would "return" and take them to live with him there (Greek, Parousia, the second coming).
TO LOVE: Is my life a light to show others the way to God's truth?
TO SERVE: Risen Lord, guide me to the Father by your eternal truth.
​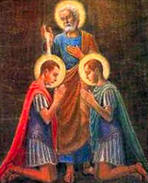 Optional Memorial of Saints Nereus and Achilleus, martyrs, or Saint Pancras, martyr
Nereus was a soldier in the imperial Roman army, and a member of the Praetorian Guard. He was a convert to Christianity, and allegedly baptized by Saint Peter the Apostle. Nereus was exiled for his faith, and was martyred. Pancras, a fourteen year old orphan, was brought to Rome by his uncle, Saint Dionysius. Pancras became a convert to Christianity and was martyred along with Saint Nereus, Saint Achilleus, and Saint Domitilla. Pope Vitalian sent Pancras' relics from Rome to England as part of the evangelization of England. Saint Augustine of Canterbury dedicated the first Church in England to Saint Pancras, and subsequent churches were similarly named for him.

---
SATURDAY, MAY 13, JOHN 14:7-14
Easter Weekday
(Acts 13:44-52; Psalm 98)
KEY VERSE: "Whoever has seen me has seen the Father" (v.9).
TO KNOW: Jesus came to reveal God the Father. His words and works testified to the life and truth that he shared with the Father. Philip asked for some manifestation of God (theophany) such as Moses experienced on Mount Sinai (Ex 33:18). Jesus said that if they really understood who he was, they would "see" the Father in him. Although God is Spirit, Jesus is the living revelation of God the Father who acts in and through him. If his disciples could not believe Jesus' words, at least they could believe in the works he had done. Jesus assured his followers that if they had faith in him, they would accomplish even greater works. He promised to empower the Church to act in his name through the coming of the Holy Spirit.
TO LOVE: In what ways do I see Jesus working through me? Am I able to see him working in others?
TO SERVE: Risen Lord, help me to understand the Divine mystery you came to reveal.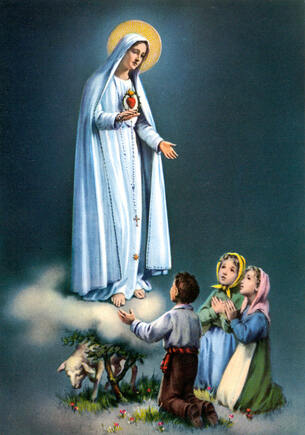 Optional Memorial of Our Lady of Fatima - Centenary of the Apparitions
The Blessed Virgin Mary appeared six times in the small village of Fatima in Portugal to three shepherd children: Lucia, 9, and her cousins Francisco, 8, and his sister Jacinta, 6, between May 13, 1917 and October 13, 1917. She told them that she had been sent by God who would grant peace to all the world if her requests for prayer, reparation and consecration were heard and obeyed. Our Lady repeatedly emphasized the necessity of praying the rosary daily, of wearing the brown scapular of Mount Carmel and of performing acts of reparation and sacrifice on the Five First Saturdays of five consecutive months. Our Lady requested the solemn public consecration of Russia to her Immaculate Heart. In the last apparition she revealed her name: "I am the Lady of the Rosary." That same day, 70,000 people had turned out to witness the apparition. They saw the sun make three circles and move around the sky in an incredible zigzag movement in a manner which left no doubt about the veracity of the apparitions. By 1930 the Church approved the apparitions as authentic. The heart of Our Lady's Message has come to be called the "Secrets" which she confided to the three children. The third "secret" was not revealed until the year 2000, and referred to the persecutions that humanity would undergo in the last century: "The good will be martyred; the Holy Father will have much to suffer; various nations will be annihilated.'" The assassination attempt on Pope John Paul II in 1981 took place on May 13, the 64th anniversary of the apparitions. The Holy Father attributed his escape from certain death to the intervention of Our Lady. Two of the children, Jacinta and Francisco Martos, died shortly after the apparitions. Pope Francis will preside over their canonization while in Fatima May 12-13 for the centenary of the apparitions. Sr. Lucy Dos Santos, the eldest of the three, died after a long illness at the age of 97 on February 13, 2004 at her Carmelite convent in Coimbra, Portugal. ​
---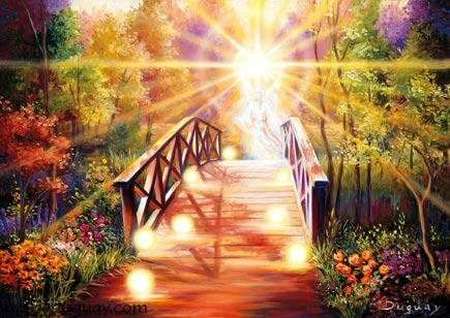 FIFTH SUNDAY OF EASTER
SUNDAY, MAY 14, JOHN 14:1-12
(Acts 6:1-7; Psalm 33; 1 Peter 2:4-9)
KEY VERSE: "I am the way, and the truth, and the life" (v.6).
TO KNOW: When Judas went off to betray Jesus, he left the light and went out into the night (Jn 13:30). Then Jesus spoke to his faithful disciples. As he prepared to depart from this world, he consoled his grieving disciples and strengthened their faith in him. Jesus insisted on the necessity of faith, telling them to "believe in God," and also "believe in me." He told them to have confidence in his promise that they would dwell eternally with him. Jesus was the pathway to God; he revealed the truth of God; and he gave them the abundant life of God. Jesus likened heaven to a huge mansion in which there were many rooms. He told them that he was going to prepare a place for them, and that he would return to take them with him, the promise of his future return as the Lord of the world (the parousia = coming). Jesus would continue to intercede on behalf of those who had faith in him. He would empower them to do even greater works in his name.
TO LOVE: How can I show others the way, truth and life of Jesus' words?
TO SERVE: Risen Lord, show me the way to the Father so that I may live eternally in his truth.​
---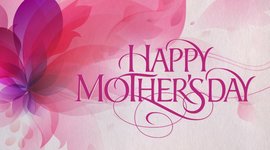 MOTHER'S DAY
Mother's Day in the United States was first suggested in 1872 by Julia Ward Howe as a day dedicated to peace, but Howe died without gaining formal recognition for her vision. In 1907 Ana Jarvis, from Philadelphia, inspired by her own mother in caring for soldiers and their families during the Civil War, was successful in her campaign for a national day of recognition for all mothers to be celebrated on the second anniversary of her mother's death, the 2nd Sunday of May. President Woodrow Wilson, in 1914, made the official announcement proclaiming Mother's Day as a national holiday that was to be held each year on the 2nd Sunday of May. Many countries celebrate Mother's Day at different times throughout the year.
---