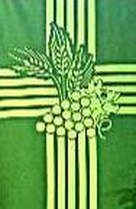 ​ORDINARY TIME
Ordinary Time is called "ordinary" because the weeks are numbered. The Latin word ordinalis, which refers to numbers in a series, stems from the Latin word ordo, from which we get the English word order. Thus, Ordinary Time is in fact the ordered life of the Church—the period in which we live our lives neither in feasting (as in the Christmas and Easter seasons) or in more severe penance (as in Advent and Lent), but in watchfulness and expectation of the Second Coming of Christ. There are two times we are in Ordinary Time. There are 28 weeks of Ordinary Time after Easter and 5 weeks of Ordinary Time after Christmas. However, this varies depending upon when Easter falls in a particular year. The actual number of weeks of Ordinary Time in any given year can total 33 or 34. ​
---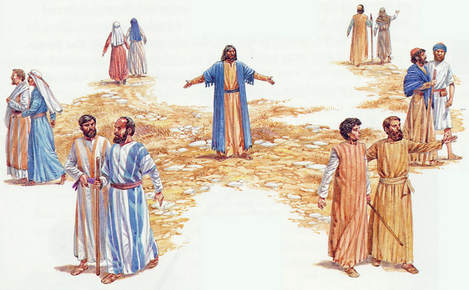 ​FIFTEENTH SUNDAY IN ORDINARY TIME
SUNDAY, JULY 15, MARK 6:7-13
(Amos 7:12-15; Psalm 85; Ephesians 1:3-14 or 1:3-10)
KEY VERSE: "He summoned the Twelve and began to send them out two by two and gave them authority over unclean spirits" (v 7).
TO KNOW: Jesus had been rejected by his neighbors, yet he continued to teach in the area around Nazareth. He summoned his apostles, and sent them out "two by two" (v 7, the Greek word apostollo means "one who is sent with a message"). The apostles did not go on their own volition, but under the power and authority of Jesus. Strengthened by one another, they must imitate Jesus by trusting in God's providence. If they were shown hospitality when they brought the good news, they should remain in that place. But if doors and ears were closed to their message, they must shake the dust from their feet when they left that place. (The Rabbinic law said that the dust of a Gentile country was defiled, and when people entered the Holy Land from another country they should shake off every particle of dust of the unclean land.) Empowered by the Lord, the new missionaries went forth to announce God's reign, expel demons and heal the sick by anointing them with oil (early evidence of the Sacrament of the Sick. See James 5:14).
TO LOVE: Holy Apostles, help me to hear and act on Jesus' words in the Gospel.
TO SERVE: Does my life-style bear witness to the Gospel? ​

---
MONDAY, JULY 16, MATTHEW 10:34 -- 11:1
Weekday
(Isaiah 10:10-17; Psalm 50)
KEY VERSE: "Whoever does not take up his cross and follow after me is not worthy of me" (v. 39).
TO KNOW: Jesus exhorted the apostles to have courage under persecution. He was aware that his message would not be accepted by everyone, and he warned his followers that members of their own families might be their adversaries. Those who wished to follow in Jesus' footsteps must be willing to put the gospel before all else -- even their own lives. They must be prepared to be treated like the prophets of old who suffered for proclaiming God's word. The apostles were Christian "prophets" who would speak God's saving message of the gospel. Whoever offered hospitality to them received Jesus himself and God who sent him, and they would be rewarded for their kindness.
TO LOVE: Pray for missionaries whose lives may be endangered for preaching the gospel.
TO SERVE: Lord Jesus, give me courage to proclaim your gospel as your apostles did.
​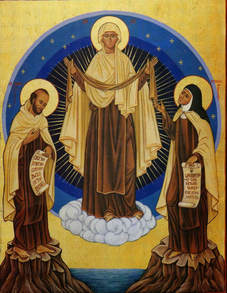 Optional Memorial of Our Lady of Mount Carmel
According to Carmelite chronicles, the Order of Mount Carmel had its origins with the disciples of the prophet Elijah who lived in a cave on Mount Carmel. In the 12th century, a rule was established and the order began to spread to Europe. Amid the many persecutions, Saint Simon Stock, General of the Order, turned with confidence to the Blessed Mother. As he knelt in prayer on July 16, 1251, she appeared before him and presented him with the brown scapular, a loose sleeveless garment reaching from the shoulders to the knees. He was given the assurance of her heavenly protection from eternal death for all who died wearing it. Devotion spread quickly throughout the Christian world. At Lourdes in 1858, the Virgin chose to make her last apparition on July 16th, feast of Our Lady of Mount Carmel. And at Fatima on October 13, 1917, it was Our Lady of Mount Carmel who appeared to three children. Throughout the ages, the Queen of Carmel has always kept a faithful watch over her cherished children on earth.
The Carmelite Scapular is not:
* a magical charm to protect you
* an automatic guarantee of salvation
* an excuse for not living up to the demands of the Christian life
The Carmelite Scapular is a sign:
* that has been approved by the Church for over seven centuries
* that stands for the decision to follow Jesus like Mary:
* to be open to God and to his will
* to be guided by faith, hope, and love
* to pray at all times
* to discover God present in all that happens around us

---
TUESDAY, JULY 17, MATTHEW 11:20-24
Weekday
(Isaiah 7:1-9; Psalm 48)
KEY VERSE: "Then he began to reproach the towns where most of his mighty deeds had been done, since they had not repented" (v. 20).
TO KNOW: The cities, Capernaum, Chorazin and Bethsaida formed what is called the "Evangelical Triangle," the small area where Jesus worked most of his miracles. These "mighty deeds" were manifestations of God's power meant to turn the people away from their sins and point them toward salvation; nevertheless, many people refused to repent (Greek, metanoia; Hebrew, t'shuvah). Jesus grimly reminded the crowds that the pagan cites of Tyre and Sidon, port cities on the Mediterranean coast, were denounced by the prophets for their wickedness (Joel 4:4-7). If such miracles had been worked in Sodom, the people would have repented and that corrupt city would still be standing (Gn 19:1-29). Jesus lamented the fact that the people of Sodom would be judged less severely than his own people because he was in their midst. Yet they closed their eyes and ears to his message.
TO LOVE: What do I need to do to change my life?
TO SERVE: Lord Jesus, help me to see the miracles that you work in my life.
​​

WEDNESDAY, JULY 18, MATTHEW 11:25-27
Weekday
(Isaiah 10:5-7, 13b-16; Psalm 94)
KEY VERSE: "All things have been handed over to me by my Father" (v. 27).
TO KNOW: Jesus said that a childlike receptivity and obedience to God's will was the key to entering God's reign (Mt 18:3). He continually praised the poor and lowly (Hebrew: 'anav)​ for their trust in God (Mt 5:3-12). He was not condemning educated people's intellectual ability but their pride. True wisdom would not be found by the clever and learned whose minds were closed to God. Jesus demonstrated this in his own relationship with his Father. With simple trust, Jesus received everything from the Father. Only the Father fully understood Jesus' mission, and only Jesus comprehended the Father's saving plan. Jesus broke into a joyful hymn of praise to his Father for having revealed the mysteries of his kingdom to those who came to him with open and simple faith.
TO LOVE: Do I praise God for the faith given to me?
TO SERVE: Lord Jesus, help me to be your Father's faithful child.


Optional Memorial of Saint Camillus de Lellis, priest
Camillus entered the Capuchin novitiate three times, but each time a nagging leg injury, which he received while fighting the Turks, forced him to give up. He went to Rome for medical treatment where Saint Philip Neri became his priest and confessor. Camillus moved into San Giacomo Hospital for the incurable, and eventually became its administrator. Lacking education, he began to study with children when he was 32 years old. Ordained a priest, he founded the Congregation of the Servants of the Sick (Camellians) who cared for the sick both in hospital and home. Camillus honored the sick as living images of Christ, and hoped that the service he gave them did penance for his wayward youth.

---
THURSDAY, JULY 19, MATTHEW 11:28-30
Weekday
(Isaiah 26:7-9, 12, 16-19; Psalm 102)
KEY VERSE: "Come to me, all you who labor and are burdened, and I will give you rest" (v. 28).
TO KNOW: The prophet Jeremiah told the people that they would find "rest for their souls" if they would follow the straight path to God (Jer 6:16). However, the religious leaders had laid a crushing weight on the people by complicating God's law with numerous legal obligations. They made no effort to lighten the load of those burdened by these regulations, and they often neglected the true purpose of the law -- justice and mercy. Jesus invited all who were weary of trying to fulfill the law to come to him. Obedience to his word would be light in comparison to the religious leader's legalistic requirements. Jesus was the embodiment of God's law of compassion and love, and he made the way to God accessible. By taking on the light yoke of obedience to his word, Jesus' followers would find rest from all that oppressed them (Is 25:4-5).
TO LOVE: How can I help someone carry their burdens today?
TO SERVE: Lord Jesus, help me to find rest in you when life becomes complicated.
​
FRIDAY, JULY 20, MATTHEW 12:1-8
Weekday
(Isaiah 38:1-6, 21-22, 7-8; Psalm: Isaiah 38)
KEY VERSE: "For the Son of Man is Lord of the Sabbath" (v. 8).
TO KNOW: As Jesus and his disciples continued their journey, the Pharisees criticized him for allowing his hungry followers to glean grain on the Sabbath, since the law forbade manual labor on the Lord's Day. The religious leaders defined "work" as thirty-nine forbidden actions. Among them were reaping, winnowing, threshing and preparing a meal. By plucking the corn Jesus' disciples were guilty of reaping; by rubbing it in their hands they were guilty of threshing, and by separating the grain from the chaff they were guilty of winnowing. Furthermore, the whole process constituted preparing a meal, another violation of the Sabbath law. In defense of his disciples, Jesus cited the example of David who fed his hungry men with the "bread of offering" usually reserved for priests (1 Sm 21:4-7). Jesus argued that priests did not incur guilt by preparing the offering of the lambs on the Sabbath (Nm 28:9). He quoted the prophet Hosea who said: "I desire steadfast love and not sacrifice" (Hos 6:6). Jesus was liberating God's people from the burdens of a restrictive law, which they had labored under for so long (Mt 11:28).
TO LOVE: Do I have a legalistic view of God's Law?
TO SERVE: Lord Jesus, teach me to observe the Lord's Day through worship and service to your people.​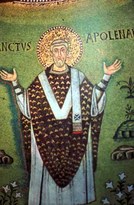 Optional Memorial of Saint Apollinaris, bishop and martyr
Apollinaris, bishop of Hierapolis in Phrygia, was one of the most illustrious bishops of the second century. He was renowned for his power to heal in the name of Christ. Saint Jerome, Eusebius, and Theodoret furnish us with the few facts known of him. Apollinaris addressed an "Apology" (a defense) of the Christian religion to the emperor Marcus Aurelius. It was to protect his flock against persecution that Apollinaris reminded the Emperor of the favor he had received from God through the prayers of the Christians. Apollinaris and his flock were exiled from Ravenna by the emperor Vespasian. On his way out of the city Apollinaris was arrested, tortured and martyred, run through with a sword. The date of the death is not known, but it probably occurred about the year 175. Saint Apollinaris' relics are at Ravenna, Italy.

---
SATURDAY, JULY 21, MATTHEW 12:14-21
Weekday
MATTHEW 12:14-21
(Micah 2:1-5; Psalm 10)
KEY VERSE: "Behold, my servant whom I have chosen, my beloved in whom I delight" (v. 18).
TO KNOW: When Jesus cured a man on the Sabbath (Mt 12:9-13), the religious leaders were outraged and they plotted to put Jesus to death. Jesus quoted the prophet Isaiah to show that he was the fulfillment of God's suffering servant (Is 42:1-4). Many people expected the Messiah to come with power to overcome their enemies. Instead, Jesus came in meekness and humility, offering hope to those who were burdened. Imbued with God's Spirit, Jesus proclaimed justice for all who were crushed under the weight of oppression (Mt 11:28-30). As opposition to Jesus grew, he departed from that area. Many followed him and were healed. The world will come to know Jesus when Christians imitate his example of compassionate service to those in need.
TO LOVE: Do my actions promote peace or contention?
TO SERVE: Lord Jesus, help me to follow your example by working for peace and justice.​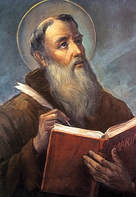 Optional Memorial of Saint Lawrence of Brindisi, priest and doctor of the Church
Lawrence of Brindisi joined the Capuchin Friars at age 16. Ordained a priest, he taught theology and served as linguist and military chaplain. Lawrence rallied the German princes to fight the Turks, and was asked to lead the army into battle carrying no weapon but a crucifix. The Turks were completely defeated. Lawrence was made Master General of his order in 1602. As a Diplomat, he carried out important and successful peace missions to Munich and Madrid. Lawrence was an effective and forceful preacher, and writer of catechisms. In 1956, the Capuchin order compiled fifteen volumes of his sermons, letters and writings. He was proclaimed Apostolic Doctor of the Church by Pope John XXIII in 1959.
​
---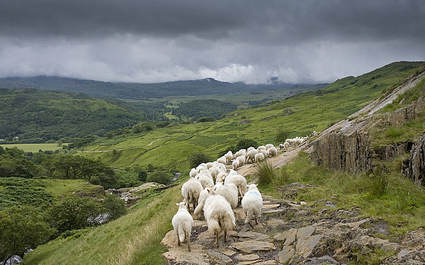 SIXTEENTH SUNDAY IN ORDINARY TIME
SUNDAY, JULY 22, MARK 6:30-34
(Jeremiah 23:1-6; Psalm 23; Ephesians 2:13-18)
KEY VERSE:
His heart was moved with pity for them, for they were like sheep without a shepherd" (v 34).
TO KNOW:
When Jesus' disciples returned from their mission, they reported all they had said and done in his name. Like Jesus, the disciples were servants of the people. As the disciples ministered to the people, so many came to them that they did not have time to eat. As a wise shepherd of his flock, Jesus knew that his followers must tend to their bodily as well as their spiritual needs. He invited them to come with him to a secluded place in order to rest. The crowds saw Jesus going away, and so they went around the lake on foot. When Jesus and his disciples arrived by boat to what they thought was a "deserted place," the people were already there to meet them. Instead of being annoyed by this inconvenience, Jesus took pity on them for they were "like sheep without a shepherd." Ignoring his own need for rest, Jesus began to "teach them many things" (v. 34).
TO LOVE:
Do I remember to take time for rest and relaxation so as to serve God's people?
TO SERVE:
Lord Jesus, help me to be sensitive to the needs of those to whom I minister.​
---
MONDAY, JULY 23, MATTHEW 12:38-42
Weekday
(Micah 6:1-4, 6-8; Psalm 50)
KEY VERSE: "An evil and unfaithful generation seeks a sign" (v. 39).
TO KNOW: The scribes and Pharisees demanded evidence from Jesus that his works came from God and not from the evil one (Beelzebul, v 27, the pagan god Baal of Syria). Jesus said that it was the religious leaders who were sinful, since they preferred a religion of legalism over one that made moral demands of them. Jesus told them that the people of Nineveh repented because of Jonah's preaching, not because of signs and wonders (Jon 3:10). The Queen of Sheba sought Solomon's wisdom, not his magic (1 Kgs 10:1-10). Jesus was greater than either Jonah or Solomon, yet the people refused to believe in him. The only sign he would give those faithless ones was the "Sign of Jonah," the three days the prophet spent in the belly of the whale (Jon 2), a symbol of Jesus' impending death and resurrection.
TO LOVE: Do I need to see evidence in order to have faith in Jesus?
TO SERVE: Lord Jesus, help me to see you in the everyday circumstances of my life.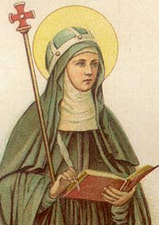 Optional Memorial of Saint Bridget of Sweden, religious
Bridget began receiving visions, mostly of Jesus' crucifixion, at age seven. In 1316, at age thirteen, she wed Prince Ulfo of Nercia in an arranged marriage. She was the mother of eight children including Saint Catherine of Sweden. After her husband's death in 1344 Bridget pursued a religious life, for which she was harassed by others at the court. She eventually renounced her title of princess, and founded the Order of the Most Holy Savior (Bridgettines) at Vadstena in 1346. The order received confirmation by Pope Urban V in 1370, and survives today. She chastened and counseled kings and urged Popes Clement VI, Urban VI, and Gregory XI to return to Rome from Avignon. She encouraged all to meditate on Jesus Crucified. Bridget recorded the revelations given in her visions, and these became hugely popular in the Middle Ages. ​
---
TUESDAY, JULY 24, MATTHEW 12:46-50
Weekday
(Micah 7:14-15, 18-20; Psalm 85)
KEY VERSE: "For whoever does the will of my heavenly Father is my brother, and sister, and mother" (v. 50).
TO KNOW: Jesus' opponents stubbornly refused to believe in him. While addressing the crowds, his mother and brothers came to see him. The word "brothers" does not imply that Mary had other children. The Hebrew word 'ach, (brother,) can mean "kinsmen," varying degrees of blood relationship (see Gn 13:8; Lv 10:4); persons of common ancestry; members of the same tribe or clan (Nm 16:10), or of the same nation (Dt 15:12). The Greek word adelphos has a similar connotation. Jesus used this opportunity to declare who were the true members of his spiritual family. It was not their physical relationship that made one a "brother" or "sister" of Jesus, but doing God's will. Jesus was the "firstborn of many brothers" who have become children of God by faith (Ro 8:29). In Luke's gospel, Jesus' mother Mary was extolled as a true disciple, not because of blood relationship, but because she heard and kept God's word (Lk 11:28).
TO LOVE: How do I serve my brothers and sisters in Christ?
TO SERVE: Lord Jesus, thank you for allowing me to belong to your family.
​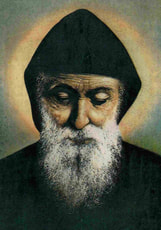 Optional Memorial of Saint Sharbel Makhlūf, priest
Joseph Zaroun Makhlūf, was born in Northern Lebanon and raised by an uncle who opposed the boy's youthful piety. At age 23 Joseph snuck away to join the Baladite monastery of Saint Maron at Annaya where he took the name Sharbel in memory of a 2nd century martyr. He became a hermit from 1875 until his death 23 years later. He gained a reputation for holiness, and was sought after for counseling. Sharbel had a great personal devotion to the Blessed Sacrament, and was known to levitate during his prayers. He was briefly paralyzed for unknown reasons just before his death. There were several post-mortem miracles attributed to him, including periods in 1927 and 1950 when a bloody "sweat" flowed from his corpse. His tomb has become a place of pilgrimage for Lebanese and non-Lebanese, Christian and non-Christian alike. He was canonized 9 October 1977 by Pope Paul VI.


---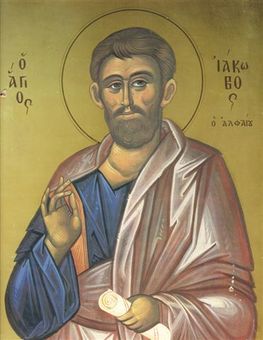 FEAST OF SAINT JAMES, APOSTLE
​WEDNESDAY, JULY 25, MATTHEW 20:28
(2 Corinthians 4:7-15; Psalm 126)
KEY VERSE:
"Whoever wishes to be great among you shall be your servant" (v. 26).
TO KNOW:
For the third time in Matthew's gospel, Jesus taught his disciples about his coming passion and death; yet they still did not comprehend the reality of his words. A woman approached Jesus with the request that her sons, James and John, receive special honor in his kingdom. Her misconception was that Jesus' reign was an earthly rule with temporal authority. The other disciples were indignant over this (did they wish that they had thought of it first?). Jesus reminded them that the way to the kingdom was not the path to glory. Being a disciple meant humble submission to the will of God. Jesus did not come to be served, but to offer his life as a ransom for those who were held captive to sin. James would share Jesus' suffering. He was the first apostle to be martyred. The Book of Acts repots that King Herod Agrippa "had James, the brother of John, killed by the sword," (Acts 12:2)
TO LOVE:
Do I hand on the faith that I have received, just as the apostles did in their time?
TO SERVE:
St. James, pray for me that I might courageously serve Christ as you did.​
---
THURSDAY, JULY 26, MATTHEW 13:10-17
(Jeremiah 2:1-3, 7-8, 12-13; Psalm 36)
KEY VERSE: "Blessed are your eyes, because they see, and your ears, because they hear" (v. 16).
TO KNOW: Jesus often spoke to the crowds in parables (Hebrew, mashal), making a comparison of common things to impart a moral lesson. These figures of speech encouraged his audience to discover the meaning of his words. Only those who were open to the divine mysteries could understand the plan of God revealed in Jesus' words. Stubborn nonbelievers were blind and deaf to his message. They fulfilled the words of the prophet Isaiah: "They look but do not truly see. They listen but do not really hear" (Is 6:9-10). The disciples were blessed because they believed what they saw and heard, and they would grow even more in their understanding of God's reign. The prophets and righteous people of old longed to see and hear that which the disciples of Jesus were privileged to witness.
TO LOVE: Am I able to help others understand the revealed word of God?
TO SERVE: Lord Jesus, help me to comprehend the mysteries you came to make known.​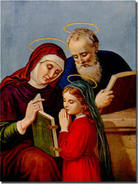 Memorial of Saints Joachim and Anne, parents of the Blessed Virgin Mary
Joachim was the husband of Anne, the father o Blessed Virgin Mary, and grandfather of Jesus Christ. There is no mention of them in the New Testament. What we know comes from Catholic legend and the Gospel of James, which is an apocryphal writing form the second century AD. Tradition says that while Joachim was away from home, he and Anne each received a message from an angel that she was pregnant. It is believed that Joachim and Anne gave Mary to the service of the Temple when the girl was three years old. Joaquin and Anne serve as role models for parents and grandparents and deserve to be honored and emulated for their devotion to God and Mary, Mother of Jesus. ​
---
FRIDAY, JULY 27, MATTHEW 13:18-23
Weekday
(Jeremiah 3:13-17; Psalm 19)
KEY VERSE: "But the seed sown on rich soil is the one who hears the word and understands it" (v. 23).
TO KNOW: Jesus explained the parable of the sower to his disciples. The different types of soil in the parable depicted various responses to the proclamation of God's reign. The seed, the Word of God, sown on the pathway represented those who heard the message, but never accepted it in their hearts, and the evil one robbed them of what was sown. The seed sown on rocky ground were those who heard the word with enthusiasm, but quickly fell away when persecution or trials occurred. The seed sown among thorns were those who believed for a while, but the lure of riches and worldly concerns choked out the life of faith. The seed that was sown on fertile soil were those who heard and responded to the message with faith. Their lives would yield abundant fruit.
TO LOVE: What seeds of faith have I planted in the hearts of others?
TO SERVE: Lord Jesus, prepare my heart so that your words will take root and grow.
​​

SATURDAY, JULY 28, MATTHEW 13:24-30
Weekday
​(Jeremiah 7:1-11; Psalm: Jeremiah 31:84)
KEY VERSE: "Let them grow together until harvest" (v. 30).
TO KNOW: The parable of the weeds among the wheat is a story of good and evil, which will exist together until the end of the world. The image in this parable would be familiar to the farmers in Jesus' audience. At times, an underhanded man deliberately sowed bad seed in someone else's field. The weed in the story was darnel, a poisonous plant that looked very much like wheat when it was young. So it is with evil; it is difficult to detect in its early stages until it grows strong and destroys what is good. But to pull up the weeds before the wheat matured would endanger its immature roots. When the wheat ripened it grew taller and stronger than the weeds. Then the experienced eye could distinguish the two and easily separate them. Jesus said that it was not the work of God's servants to make this judgment. Both the weeds and the wheat should be allowed to flourish until the harvest when God would separate error from truth.
TO LOVE: Do I tend to be judgmental toward others?
TO SERVE: Lord Jesus, help me to refrain from judging the actions of others until I know the truth.
​

OPTIONAL MEMORIAL OF THE BLESSED VIRGIN MARY
Chapter V of the Directory on Popular Piety and the Liturgy, issued by the Holy See in December 2001, describes the Church's traditional dedication of Saturday to the Virgin Mary. "Saturdays stand out among those days dedicated to the Virgin Mary. These are designated as memorials of the Blessed Virgin Mary" (218). The chapter also describes the importance of Mary, the Mother of Jesus, in Catholic devotional life, in the Liturgy, and reflections on popular devotions to Mary, her feast days, and the Rosary. ​
---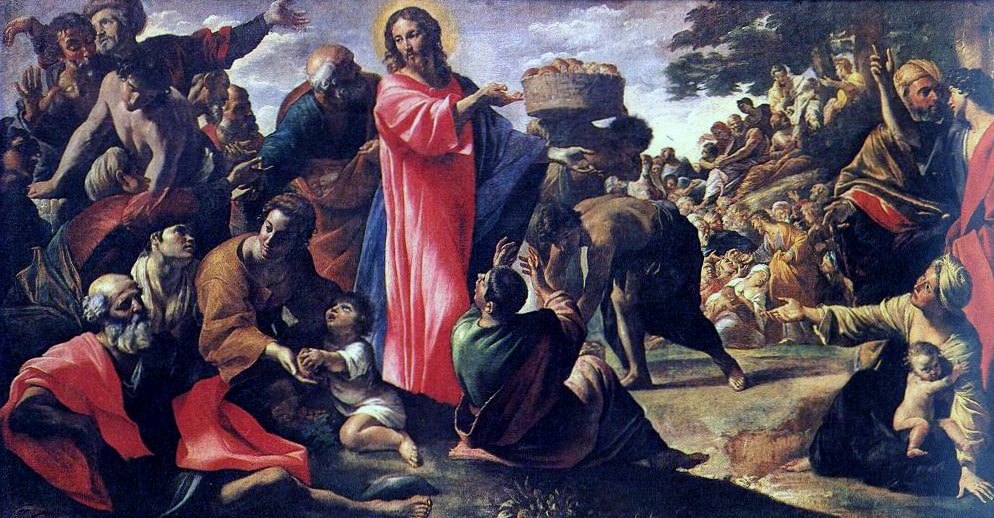 SEVENTEENTH SUNDAY IN ORDINARY TIME
SUNDAY, JULY 29, JOHN 6:1-15
(2 Kings 4:42-44; Psalm 145; Ephesians 4:1-6)
KEY VERSE: "This is truly the Prophet, the one who is to come into the world" (v.14).
TO KNOW: The miracle of the multiplication of bread is narrated by all four evangelists (Matthew 14:13–21 and 15:32–38; Mark 6:31–44 and 8:1–10; Luke 9:10–17), which indicates its Eucharistic importance for the early Church. In John's gospel, the miracle took place near Passover, the Jewish unleavened bread feast (Ex 12:8). When the Israelites were wandering in the wilderness and dying of hunger, God fed them with manna (Ex 16:4). Jesus declared that he himself was the bread that came "down from heaven" to give "life to the world" (Jn 6:33). Like the prophet Elisha (2 Kgs 4:42-44), Jesus took the loaves of barley bread, the humble food of the poor, gave thanks (Greek, eucharisteō), broke and distributed it to the hungry people. The people's reaction: "This is truly the Prophet, the one who is to come into the world," refers to the "prophet like Moses" (Deut 18:15, 18) who was anticipated in the final days. However, the people looked for a Messiah who would be king and a conqueror who would drive the Romans from the land. When Jesus realized this, he withdrew to the mountain alone.
TO LOVE: In what ways do I help provide "bread" for the poor?
TO SERVE: Lord Jesus, strengthen me with your body and blood in the Eucharist.

---
MONDAY, JULY 30, MATTHEW 13:31-35
Weekday
(Jeremiah 13:1-11; Psalm: Deueronomy 32)
KEY VERSE: "It is the smallest of all the seeds, yet when full-grown it is the largest of plants" (v. 32).
TO KNOW: Through his parables, Jesus revealed the full mysteries of the reign of God that had "lain hidden from the foundation of the world" (Ps 78:2). The parables of the mustard seed and yeast taught his followers about the paradoxical nature of God's reign, which Jesus described as having amazing growth from insignificant beginnings. Though very tiny, the mustard seed grew into a luxuriant plant where birds could find a home in its branches. In like manner, a tiny bit of leaven hidden in an enormous amount of flour (50 lbs.) expanded the dough to produce enough bread to feed a hundred people. God's kingdom is a process. Although a Christian's work may seem unimportant, even a small effort moves the kingdom toward its fulfillment.
TO LOVE: Do I encourage the modest efforts of other Christians?
TO SERVE: Lord Jesus, help me to be untiring in my labor for your kingdom.​

​Optional Memorial of Saint Peter Chrysologus, bishop and doctor of the Church
Peter was an adult convert who became a Deacon, a Priest, and in 433, the Bishop of Ravenna, Italy. He fought paganism and the Monophysite heresy, enforced reforms, and built several churches. Peter was a preacher with such language skills, that he merited the title Chrysologus, referring to his "Golden Word." One hundred and seventy six of his sermons have survived. The strength of his beautiful explanations such as the Incarnation, the Creed, the place of Mary and John the Baptist in the great plan of salvation, led to his being proclaimed a Doctor of the Church in 1729 by Pope Benedict XIII.
NOTE: Monophysitism is a heretical view concerning the nature of Jesus Christ. Its name comes from a combination of the Greek words monos, meaning "one" and physis, meaning "nature." According to this view, Christ had only a single divine nature instead of two natures, one divine and one human, as set forth in the Council of Chalcedon in 451 (the Fourth Ecumenical Council).​
---
TUESDAY, JULY 31, MATTHEW 13:36-43
(Jeremiah 14:17-22; Psalm 79)
KEY VERSE: "He who sows good seed is the Son of Man" (v. 37).
TO KNOW: Jesus left the crowds who refused to believe his words, and addressed his instruction to his disciples. To them alone, he explained the parable of the weeds among the wheat. He told them that he was the sower, the one who sowed the good seed of the gospel in the world. The ones who heard and acted on his words were children of the kingdom, while the weeds represented the offspring of the evil one. Jesus told them that God was patient and allowed good and evil to exist side by side until the harvest on the Day of Judgment. At the end of the age, all evildoers who caused others to sin would be cast into perdition. The righteous would reign in the everlasting light of God's glory (Dn 12:3).
TO LOVE: Do I plant good or bad seed in my community?
TO SERVE: Lord Jesus, I pray that you will uproot the bitter weeds in my life.
​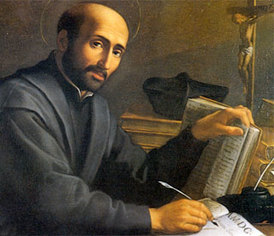 Memorial of Saint Ignatius of Loyola, priest
Born in 1491 at Loyola, Spain, Ignatius was wounded in the leg by a cannonball at the siege of Pampeluna in 1521, an injury that left him partially crippled for life. During his recuperation the only books he had access to were The Golden Legend, a collection of lives of the saints, and The Life of Christ. These books, and the time spent in contemplation, changed him. Upon his recovery he took a vow of chastity, hung his sword before the altar of the Virgin of Montserrat, and donned a pilgrim's robe. He journeyed to Rome and to the Holy Land where he worked to convert Muslims. His meditations, prayers, visions and insights led to forming the Constitutions of the Society of Jesus (Jesuits) on 15 August 1534. He then settled in Rome to direct the Jesuit order. His health suffered in later years, and he was nearly blind at death. The Jesuits today have over 500 universities and colleges, 30,000 members, and teach over 200,000 students each year.

"Teach us to be generous, good Lord; teach us to serve you as you deserve; to give and not to count the cost, to fight and not to heed the wounds, to toil and not to seek for rest, to labor and not to ask for any reward save that of knowing we do your will." - Prayer, Ignatius of Loyola ​
---
WEDNESDAY, AUGUST 1, MATTHEW 13:44-46
(Jeremiah 15:10, 16-21, Psalm 59)
KEY VERSE: "The kingdom of heaven is like a treasure buried in a field" (v. 44).
TO KNOW: Jesus told his disciples parables to help them understand the meaning of God's reign and the zeal with which it must be pursued. In the parable of the buried treasure, there was great joy in the discovery, which made the man willing to give up everything to make the treasure his own. Nothing else really mattered. The irony was that the treasure was found unexpectedly when he was going about his daily business. In the parable of the priceless pearl, Jesus' point was that the effort to search for and attain the kingdom of God was of inestimable worth and nothing could be compared to it. Jesus' followers had come to value the kingdom as a precious treasure that would last for all eternity. Because they discovered its true worth, they willingly sacrificed everything for its attainment.
TO LOVE: Is my sight set on the treasure of the kingdom or the riches that the world offers?
TO SERVE: Lord Jesus, help me to value your kingdom above all else.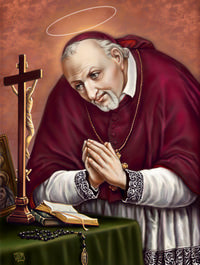 Memorial of Alphonsus Liguori, bishop and doctor of the Church
Alphonsus Liguori was born in Marianella, near Naples, in 1696. He was dained at age 29. He was noted for his simple, clear style of preaching, and his understanding manner in the confessional. He was often opposed by Church officials for a perceived laxity toward sinners. He founded the Congregation of the Most Holy Redeemer (Liguorians or Redemptorists). Alphonsus was appointed bishop in 1762, and worked to reform the clergy and revitalize the faithful in the diocese. In 1775 he resigned his office due to his health, and went into what he thought was a prayerful retirement. In 1777 the royal government threatened to disband his Redemptorists. Calling on his knowledge of theology, and his skills as a lawyer, Alphonsus defended the Redemptorists so well that they obtained the king's approval. Alphonsus was declared a Doctor of the Church by Pope Pius IX in 1871.
​
"Acquire the habit of speaking to God as if you were alone with Him, familiarly and with confidence and love, as to the dearest and most loving of friends." Alphonsus Liguori

---
THURSDAY, AUGUST 2, MATTHEW 13:47-53
Weekday
(Jeremiah 18:1-6; Psalm 146)
KEY VERSE: "Then every scribe who has been instructed in the kingdom of heaven is like the head of a household who brings from his storeroom both the new and the old" (v. 52).
TO KNOW: In Jesus' day, one method of fishing was with a dragnet, a large square net that was weighted and hung from the side of a boat. The net was drawn into the shape of a cone and the fish were swept into it. The net was then pulled to land, and the worthwhile fish were separated from the useless. Like the story of the weeds among the wheat (v. 24-30), it was not the responsibility of Jesus' disciples to judge the actions of others. God would ultimately reveal what was good and what was evil in the world. Jesus' disciples must be like wise scribes who were able to understand things both "new and old." (Some scholars see this as Matthew's personal signature, v 52). As future leaders of the Church, Jesus' disciples must be able to interpret the ancient truths in the light of the gospel. When Jesus was assured that they understood his message, he was ready to move on in his journey.
TO LOVE: Do I submit myself to the teachings of Jesus and the Church?
TO SERVE: Lord Jesus, help me to discern your truth in everything I hear.
​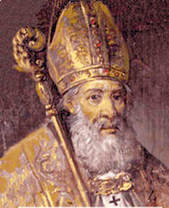 Optional Memorial of Saint Eusebius of Vercelli, bishop
Eusebius was made lector in Rome, where he lived for some time, probably as a member or head of a religious community. Later he came to Vercelli, and in 340 was unanimously elected bishop of that city by the clergy and the people. He received episcopal consecration at the hands of Pope Julius I on 15 December of the same year. According to the testimony of Saint Ambrose, Eusebius was the first bishop of the West who united monastic with clerical life. He led a common life with the clergy of his city modeled upon that of the Eastern cenobites (a monastic tradition that stresses community life). For this reason the Canons Regular of Saint Augustine honor him along with Saint Augustine as their founder.

---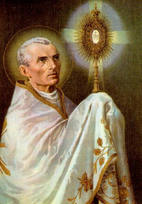 Optional Memorial of Saint Peter Julian Eymard, priest
Peter Julian Eymard had a strong Eucharistic devotion. On the feast of Corpus Christi, 1845, he had a powerful experience that changed the course of his life. While carrying the Blessed Sacrament in Lyons, he felt an intense attraction to Christ in the Eucharist and resolved to "bring all the world to the knowledge and love of our Lord; to preach nothing but Jesus Christ, and Jesus Christ eucharistic." He founded the Congregation of the Blessed Sacrament in 1856, and the lay Servants of the Blessed Sacrament in 1858 and a sister congregation for women. Although Peter's work encountered a series of setbacks, his vision of priests, deacons, sisters, and lay people dedicated to spiritual values anticipated many of the renewals brought about by Vatican Councils I and II.

---
FRIDAY, AUGUST 3, MATTHEW 13:54-58
Weekday
(Jeremiah 26:1-9; Psalm 69)
KEY VERSE: "A prophet is not without honor except in his native place and in his own house" (v. 57).
TO KNOW: Chapters 13:54 ̶ 17:27 of Matthew's gospel have been given the title: "The Kingdom of God and the Church." God's kingdom was clearly visible in the person of Jesus Christ, Son of God and Son of Man. When Jesus finished his teachings in the towns around the Lake of Galilee, he returned to Nazareth where he was raised. His neighbors were astonished by his teaching and mighty deeds, but they were also skeptical. Jesus was a "hometown boy," and they took offense at his presumption in telling them how to live their lives. Jesus was rejected like the prophets before him. Because his neighbors lacked faith in him, he was unable to perform many miracles there.
TO LOVE: Am I able to see God at work among my friends and neighbors?
TO SERVE: Lord Jesus, help me to be open to hearing truth in the teachings of the Church.
​
SATURDAY, AUGUST 4, MATTHEW 14:1-12
(Jeremiah 26:11-16, 24; Psalm 69)
KEY VERSE: "This man is John the Baptist. He has been raised from the dead; that is why mighty powers are at work in him" (v. 2).
TO KNOW: As Jesus' reputation spread, Herod Antipas, son of Herod the Great and the ruler of Galilee, heard of the marvelous deeds that Jesus had performed. Herod feared that Jesus was John the Baptist raised from the dead. The king had imprisoned the prophet because of his courageous stance against the ruler's illicit marriage (Lv 18:16, 20:21). Herod wanted to kill the popular prophet, but he was afraid that his death would cause the people to revolt. At Herod's birthday party, he promised his step-daughter that he would grant her any request if she would dance for his guests. Prompted by her mother Herodias, the girl asked for John's head as her reward. Like the prophets before him, John was murdered for proclaiming the truth of God.
TO LOVE: What are today's important issues for which I need to take a stand?
TO SERVE: Lord Jesus, help me to speak out against the injustices that I see.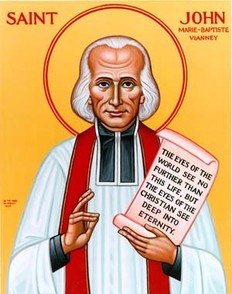 Memorial of Saint John Mary Vianney, priest
John Mary Vianney (French: Jean Baptiste Marie Vianney, also known as the Cure of Ars), was a farm hand who in his youth taught other children their prayers and catechism. It took several years of seminary study before he was ordained as he was not a very good student, and his Latin was terrible. He was assigned to the parish of Ars, a tiny village near Lyons, which suffered from very lax attendance. John Vianney began visiting his parishioners, especially the sick and poor, and spent days in prayer, doing penance for his flock. Gifted with discernment of spirits, prophecy, and hidden knowledge, John was tormented by evil spirits, especially when he tried to get his two to three hours of sleep each night. Thousands came to hear him preach, and to make reconciliation because of his reputation with penitents. He spent 40 years as their parish priest John Vianney was canonized by Pope Pius XII in 1925, the only diocesan priest ever to be canonized. He is the patron saint of clergy throughout the world.
"The soul hungers for God, and nothing but God can satiate it. Therefore He came to dwell on earth and assumed a Body in order that this Body might become the Food of our souls
~ The Cure' of Ars ~ ​
---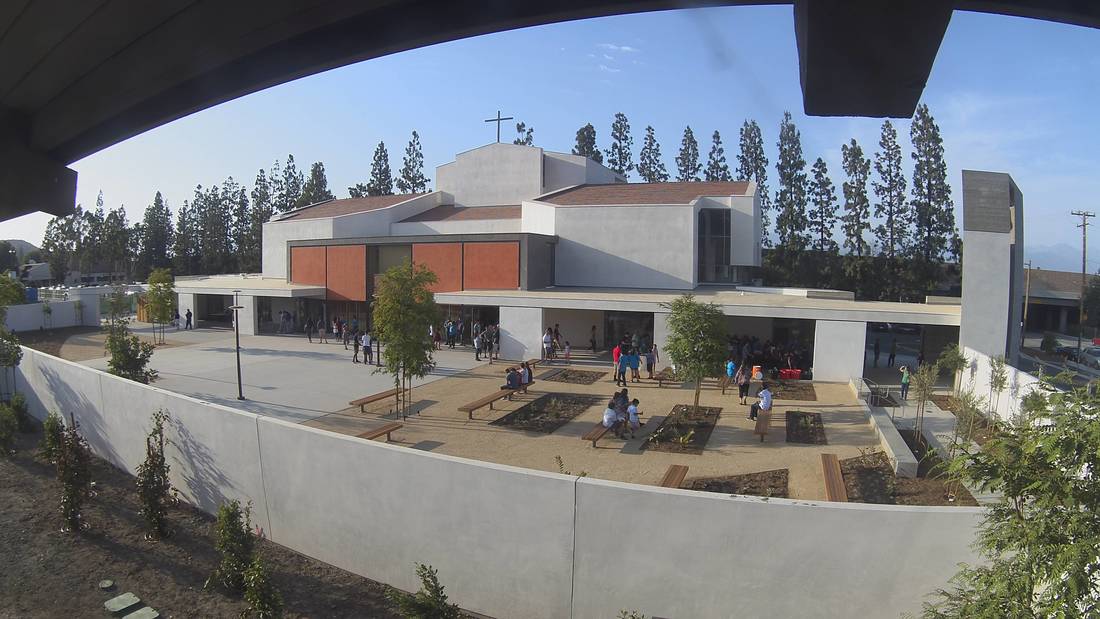 My parish is St. John Vianney Catholic Community in Hacienda Heights., California. Our new church was dedicated on June 23, 2018. Our former church was burned down by an arsonist. and we have been worshiping in a tent for the last seven years. We are grateful to God and his people for helping us to rise from the ashes. Kay Murdy. ​
---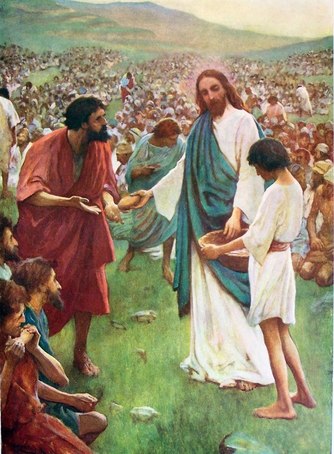 EIGHTEENTH SUNDAY IN ORDINARY TIME
SUNDAY, AUGUST 5, JOHN 6:1-15
(2 Kings 4:42-44; Psalm 145; Ephesians 4:1-6)
KEY VERSE: "This is truly the Prophet, the one who is to come into the world" (v.14).
TO KNOW: The miracle of the multiplication of bread is narrated by all four evangelists (Matthew 14:13–21 and 15:32–38; Mark 6:31–44 and 8:1–10; Luke 9:10–17), which indicates its Eucharistic importance for the early Church. In John's gospel, the miracle took place near Passover, the Jewish unleavened bread feast (Ex 12:8). When the Israelites were wandering in the wilderness and dying of hunger, God fed them with manna (Ex 16:4). Jesus declared that he himself was the bread that came "down from heaven" to give "life to the world" (Jn 6:33). Like the prophet Elisha (2 Kgs 4:42-44), Jesus took the loaves of barley bread, the humble food of the poor, gave thanks (Greek, eucharisteō), broke and distributed it to the hungry people. The people's reaction: "This is truly the Prophet, the one who is to come into the world," refers to the "prophet like Moses" (Deut 18:15, 18) who was anticipated in the final days. However, the people looked for a Messiah who would be king and a conqueror who would drive the Romans from the land. When Jesus realized this, he withdrew to the mountain alone.
TO LOVE: In what ways do I help provide "bread" for the poor?
TO SERVE: Lord Jesus, strengthen me with your body and blood in the Eucharist.

---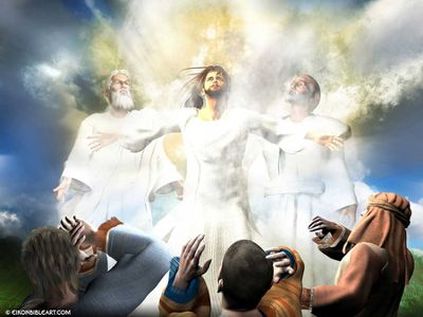 FEAST OF THE TRANSFIGURATION OF THE LORD
MONDAY, AUGUST 6, MARK 9:2-10
(Daniel 7:9-10, 13-14; Psalm 97; 2 Peter 1:16-19)
KEY VERSE:
"This is my beloved Son. Listen to him" (v 7).
TO KNOW:
Tradition says that the Transfiguration took place on Mount Tabor, which is in the south of Galilee. Mark says that this event took place near Caesarea Philippi, which is in the north. It is much more likely that the Transfiguration occurred on Mount Hermon which is nearer to Caesarea Philippi. Six days after Jesus' first prediction of his passion (Mk 8:31), he took three of his friends with him to the mountaintop. It was on a mountain that God was revealed to Moses, the liberator and Law-giver (Ex 19:3), and to Elijah, the great prophet (1 Kgs 19:8). The appearance of Moses and Elijah alongside Jesus was a revelation that Jesus was the new liberator and prophet. Jesus' saving death (his "exodus") fulfilled the scriptures, liberating the people from their slavery to sin. Peter was awestruck and proposed that three booths be set up to honor Jesus, Moses and Elijah. Booths, or tents, were used during the Exodus when God brought the people into the Promised Land, and later at the harvest feast of Sukkoth. It was also a symbol of the arrival of the Messiah to announce the final age. A cloud descended upon them all, reminiscent of the
shekinah
glory of God that filled the wilderness tent (Ex 40:35). The voice of God was heard confirming Jesus as God's chosen one. Then Moses and Elijah vanished from sight, and the disciples beheld only Jesus, the true prophet whose words must be obeyed.
TO LOVE:
Do I listen to Jesus' voice and obey him?
TO SERVE:
Lord Jesus, help me to reveal the coming of your kingdom to everyone I meet.​
---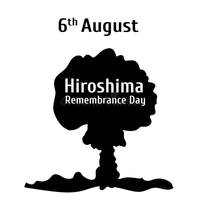 Hiroshima Remembrance Day
Hiroshima Day is a fitting day to pray for peace in our world, and for nuclear disarmament and an end to the arms race. God who created this world and revealed your love for all people in Jesus Christ, empower us to work for peace with justice, cooperating with all people of goodwill. We pray that your Holy Spirit may go throughout the world this day, reminding all rulers and peoples of the horror of nuclear weapons and engendering in all a desire to stop nuclear proliferation, and to end the reliance on military force to resolve political and economic disputes. Give to all humankind a vision of a world where weapons have been banished, and everyone works for the good of humankind and the environment. Lord hear our prayer.
"On my knees I beg you to turn away from the paths of violence and return to the ways of peace. You may claim to seek justice. I too believe in justice and seek justice. But violence only delays the day of justice. Violence destroys the work of justice."
St.John Paul II, Pope 1978-2005

---
TUESDAY, AUGUST 7, MATTHEW 14:22-36 or MATTHEW 15:1-2, 10-14
Weekday
(Jeremiah 30:1-2, 12-15, 18-22; Psalm 102)
KEY VERSE: "O you of little faith, why did you doubt" (v. 31).
TO KNOW: After the miraculous multiplication of loaves in the wilderness, Jesus revealed that he was victorious over the destructive forces that would threaten the future Church. As the disciples crossed the turbulent sea at night, they were alone in a boat. Suddenly, a storm threatened to engulf them. When Jesus came walking on the sea toward them (see Ps 77:20) they cried out "It is a ghost" (v. 26). He told his terrified disciples not to be afraid but to have courage. At Jesus' command, Peter walked toward him on the water, but when he took his eyes off Jesus, he began to sink. Grasping Peter by the hand Jesus asked, "Why did you doubt?" (v. 31). In essence Jesus was saying, "I am Emmanuel ̶ God who is with you" (Mt 1:23). Those who had doubted now declared Jesus to be the "Son of God." Jesus' acts of power are followed by a controversy with the Pharisees and scribes over his disciples' failure to observe the rules of ritual uncleanness. Jesus declared that there is only moral impurity. Only a firm faith in Jesus as the authoritative interpreter of the law could allow his followers to accept his radical teaching.
TO LOVE: How can I overcome fear and focus on Jesus when I face trials?
TO SERVE: Lord Jesus, help me to trust you as I face the storms in my life.



Optional Memorial of Saint Sixtus II, pope and martyr, and companions
Sixtus II was pope from 257 to 258. Sixtus was more conciliatory than his predecessor, Stephen, over the question of whether lapsed Christians should be re-baptized before being allowed back into the Church. Sixtus was willing to let bishops decide what to do in their own areas and accepted both practices. Sixtus restored the relations with the African and Eastern churches, which had been broken on the question of heretical baptism. In the persecutions under Emperor Valerian I in 258, numerous priests and bishops were put to death. Pope Sixtus was one of the first victims of this persecution. He was captured by soldiers while giving a sermon and perhaps beheaded right there, along with four deacons. He was buried in the same catacomb where he had been celebrating Mass when he was arrested. He died as a martyr.​
---

Optional Memorial of Saint Cajetan, priest
Cajetan was born in 1480 at Vicenza, Italy, and was a Venetian nobleman. He studied law in Padua, and was offered governing posts, but turned them down for a religious vocation. Cajetan entered a religious community to serve the sick and poor, and in 1522, he founded a hospital in Venice for victims of incurable illness. Cajetan was aware of the need of reformation in the Church. With three others, including John Peter Caraffa who later became Pope Paul IV, Cajetan formed the Congregation of Clerks Regular at Rome (Theatines), with the mission of fostering the Church's mission and reviving the spirit and zeal of the clergy. Cajetan founded a bank to help the poor and offered an alternative to usurers (loan sharks), Later it became the Bank of Naples. Cajetan died in 1547 at Naples, Italy. He was canonized 1671 by Pope Clement X.​
---
WEDNESDAY, AUGUST 8, MATTHEW 15:21-28
(Jeremiah 31:1-7; Psalm: Jeremiah 31)
KEY VERSE: "O Woman, great is your faith! Let it be done for you as you wish" (v. 28).
TO KNOW: Jesus' mission was primarily to the "lost sheep of the house of Israel" (v. 24), but he was open to hearing the truth from people outside of the Jewish faith. Following a clash with the religious leaders who refused to believe in him, Jesus met a Syrophoenician woman (the area around Tyre and Sidon) whose faith was in sharp contrast with that of his own people. The woman addressed Jesus as "Lord" and begged him to heal her tormented daughter. Jesus told her that it was not right to take food meant for the "children" (the people of Israel) and feed it to the "dogs" (a contemptuous term for Gentiles). The woman persisted, saying that she was willing to take the crumbs that fell from the master's table. Jesus was impressed by this woman's great faith, and he healed her daughter that very moment.
TO LOVE: Do I attempt to understand people of other faith traditions?
TO SERVE: Lord Jesus, help me to persist in prayer for my loved ones.​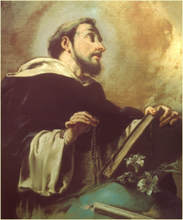 ​Memorial of Saint Dominic, priest
Dominic was born to Spanish nobility of the house of Guzman. His mother was Blessed Joan of Aza who, when pregnant, had a vision that her unborn child was a dog who would set the world on fire with a torch that he carried in its mouth. This image became a symbol for the Dominicans. Dominic founded the Order of Friars Preachers (Dominicans) in 1215, a group who lived a simple, austere life, and an order of nuns dedicated to the care of young girls. Legend says that when Dominic became discouraged at the progress of his mission, he received a vision from Our Lady who told him to say the rosary daily, and teach it to all who would listen. Dominic is often credited with the invention of the rosary, but it predates him. There is also a story that Dominic received a vision of a beggar who, like Dominic, would do great things for the Church. Dominic met the beggar the next day, embraced him and said, "You are my companion and must walk with me. If we hold together, no earthly power can withstand us." The beggar was Saint Francis of Assisi. ​
---
THURSDAY, AUGUST 9, MATTHEW 16:13-23
Weekday
(Jeremiah 31:31-34; Psalm 51)
KEY VERSE: "I will give you the keys to the kingdom of heaven" (v. 19).
TO KNOW: Jesus took his disciples to the area of Caesarea Philippi in northern Israel near Banias, where there was the Cave of Pan (the Roman god Faunus, half-goat, half-man). There was also a Temple built by Herod to honor the Emperor Augustus. In this political and pagan territory Jesus asked his disciples, "Who do you say that I am?" Inspired by the Holy Spirit, Peter confessed that Jesus was God's Son, the "Messiah" (the "anointed one"). Jesus declared Peter to be "blessed" for announcing this revelation from God. Jesus in turn affirmed Peter's identity and mission by calling him the "rock," the foundation of his Church. It was the rock of Peter's faith that enabled him to follow Jesus to his own death as a martyr. Because of Peter's new place among the Twelve, he was given the "keys" to God's kingdom with the power to "bind" and "loose," to allow or forbid according to God's law. The Pope is the apostolic successor of Peter, the supreme teaching authority of the Church. When the Pope speaks on matters of faith and morals it is said that he speaks "ex cathedra" (from the Chair of Peter) and this teaching is to be held by the universal Church. The powers of evil will not prevail over the Church.
TO LOVE: Do I respect the teaching authority of the Church?
TO SERVE: Lord Jesus, help me to understand your presence in the Church.
"In essentials, unity, in doubtful matters, liberty, and in all things charity." (Pope John XXIII, Ad Petri Cathedram, attributed to St. Augustine)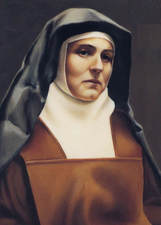 Optional Memorial of Saint Teresa Benedicta of the Cross, virgin and martyr
Edith Stein was the youngest of seven children in a Jewish family. She was a brilliant student and philosopher. She witnessed the faith of her Catholic friends, which led her to studying the catechism on her own, literally "reading herself into" the Faith. Edith was converted to Catholicism in Cologne, Germany, and was baptized in the cathedral church in 1922. She became a Carmelite nun in 1934, taking the name Teresa Benedicta of the Cross. She was a teacher in the Dominican school in Speyer, and lecturer at the Educational Institute in Munich. However, anti-Jewish pressure from the Nazis forced her to resign both positions. She was smuggled out of Germany, and assigned to Echt, Holland in 1938. When the Nazis invaded Holland, she and her sister Rose, also a convert to Catholicism, were captured and sent to the concentration camp at Auschwitz where they died in the ovens like countless others.

---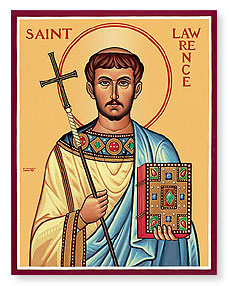 FEAST OF SAINT LAWRENCE, DEACON AND MARTYR
FRIDAY, AUGUST 10, JOHN 12:24-26
(2 Corinthians 9:6-10; Psalm 112)
KEY VERSE: "Unless a grain of wheat falls to the ground and dies, it remains just a grain of wheat" (v.24).
TO KNOW: Despite the many "signs" that Jesus performed, there were still those who refused to believe in him. Jesus' dying and rising would be the final sign that pointed to the saving mission of God at work in him. Jesus told his followers that the way to everlasting life was paradoxically through death. He wanted them to know that salvation would not be earned by extraordinary deeds, but through a willingness to sacrifice everything, even one's own life for the sake of God's kingdom. Jesus used an illustration found in nature. A grain of wheat appeared lifeless when planted in the ground, but it would spring to life and bear fruit. Paul said "whoever sows bountifully will also reap bountifully" (2 Cor 9:6). Jesus' followers would be fruitful when they imitated his example of self-giving.
TO LOVE: Am I willing to sacrifice personal attachments in order to serve Jesus?
TO SERVE: Lord Jesus, I pray that my life will bear good fruit so that I might share eternal life with you.
​
---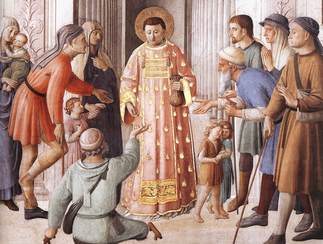 FEAST OF SAINT LAWRENCE, DEACON AND MARTYR
Lawrence was one of the seven deacons of the Church of Rome and was martyred under the Emperor Valerian in August 258, four days after Pope Sixtus II and his companions were martyred. While awaiting execution, Lawrence dispersed the material wealth of the church before the Roman authorities could lay their hands on it. When Lawrence was commanded to appear for his execution, and to bring along the treasure with which he had been entrusted, he was accompanied by a multitude of Rome's crippled, blind, sick, and indigent. He announced that these were the true treasures of the Church. Lawrence's care for the poor, the ill, and the neglected led to his patronage of them. His work to save the material wealth of the Church, including its documents, brought librarians and those in related fields to see him as their patron, and to ask for his intercession. A basilica was built over his tomb fifty years after his death. By the sixth century, the Feast of Saint Lawrence was one of the most important feasts throughout much of western Christendom. His name occurs (with Sixtus) in the Roman Canon of the Mass (Eucharistic Prayer #1).​
---
SATURDAY, AUGUST 11, MATTHEW 17:14-20
(Hebrews 1:12 -- 2:4; Psalm 9)
KEY VERSE: "Nothing will be impossible for you" (v. 20).
TO KNOW: No sooner had Jesus come down from the heavenly glory on the mountain of the Transfiguration (Mt 17:1-13), than he was confronted with an earthly problem. He encountered a lack of faith, even among his own disciples. They were unable to heal a young man suffering from epilepsy, and his father begged Jesus to cure him. Jesus reproached the unbelievers in the same way that Moses rebuked the people when he returned from the mountain of Sinai and saw the people's lack of faith (Ex 32:19). Jesus healed the boy with a simple command, and then told his disciples that with enough faith, they could move mountains, a well-known metaphor for removing difficulties in one's life. Jesus meant that with faith in God, even the hardest tasks could be accomplished. He told his humbled disciples that they only needed the smallest amount of faith, the size of a tiny mustard seed, to remove immense obstacles that blocked their path to God.
TO LOVE: What obstacles stand in the way of my serving the Lord?
TO SERVE: Lord Jesus, increase my faith when I face overwhelming problems.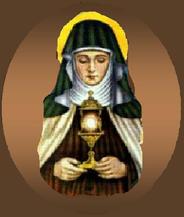 Memorial of Saint Clare, virgin
Clare was the eldest daughter of Favorino Scifi, a wealthy member of an ancient Roman family. From her earliest years Clare was devoted to prayer and to practices of mortification. As she grew older, her yearning for a more spiritual life increased. She was eighteen years of age when Saint Francis came to preach in the church of San Giorgio at Assisi. Francis kindled a flame in the heart of Clare, and she begged him to help her live "after the manner of the holy Gospel". By Francis's advice, Clare secretly left her father's house, and, accompanied by her aunt Bianca and another companion, proceeded to the chapel of the Porziuncula, where Francis and his disciples met her. Clare then laid aside her rich dress, and Francis cut off her hair and clothed her in a rough tunic and a thick veil, and she vowed herself to the service of Jesus Christ. Eventually, Clare founded the Order of Poor Ladies (Poor Clares) at San Damiano, and led it for 40 years. Clare's mother and sisters later joined the order, and today there are thousands of members living lives of prayer in silence.​
---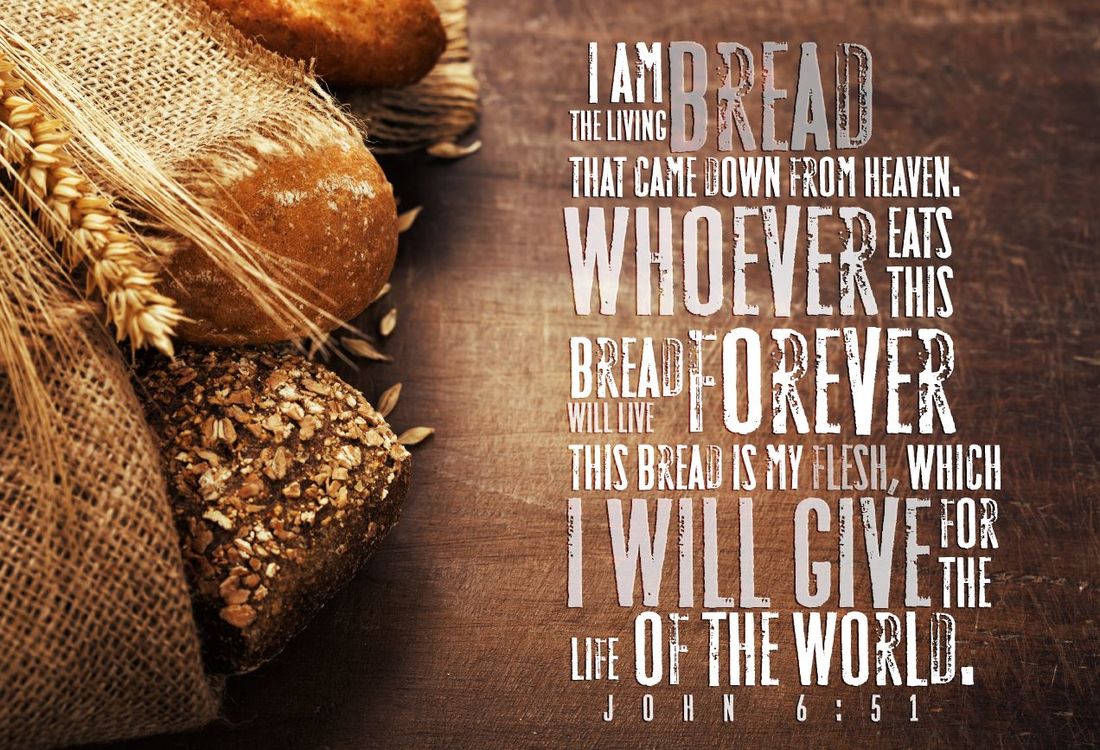 NINETEENTH SUNDAY IN ORDINARY TIME
SUNDAY, AUGUST 12, JOHN 6:41-51
(1 Kings 19:4-8; Psalm 34; Ephesians 4:30 ̶ 5:2)
KEY VERSE: "The bread that I will give is my flesh for the life of the world" (v.51).
TO KNOW: The people claimed to know Jesus' human origin, but they did not understand his divine origin. When Jesus declared: "I am the bread that came down from heaven" (John 6:41), they murmured against him. In a similar way, their ancestors grumbled against Moses when they were hungry on their exodus journey, and he fed them with "bread from heaven" (Ex 16:2-8). The bread in the wilderness was only a foretaste of the true bread, Jesus, who came from God, his Heavenly Father. The Israelites had eaten the manna in the desert, but they all died. Jesus is the life-giving bread who eternally sustains those who believe in him. All who respond to God's grace and believe in Jesus have the fullness of divine revelation. By partaking of this "living bread" (v.51), God's people are nourished by Jesus who eternally feeds them on life's journey.
TO LOVE: When have I experienced the life-giving power of the Sacrament of the Eucharist?
TO SERVE: Lord Jesus, your body and blood gives me strength on my journey through life.
---